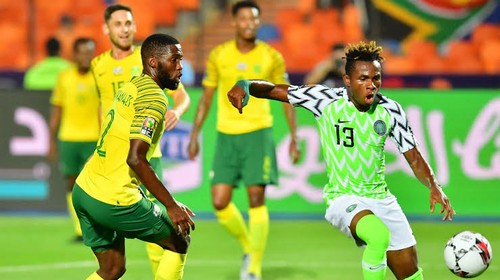 The Super Eagles of Nigeria overcome the tricky match against South Africa.
Many tipped them to see off the Bafana Bafana but it's not going to be an easy task for sure. It didn't come easy.
The match started with Nigeria playing safe. They know South Africa are on a high after beating the host Egypt. You have to keep it simple with them and keep the likes of Tau, Lorch, and Mothiba silent. They did that effectively until a piece of skill down the left hand side saw Iwobi cross into the penalty box. Chukwueze was there to score the goal. A goal in the first half for Nigeria was a dream start. It should usher in more goals but Nigeria wasted so many chances.
Odion Ighalo was zero, Ahmed Musa not knowing when to pass or take a shot. Chukwueze was the only lively forward we had and he made sure the South Africa defenders played deep rather than playing the high line thereby confining the Super Eagles in their half.
The duo of Ndidi and Etebo also did a very good work preventing the South Africa midfielders from getting the ball to their devastating forward trio of Mothiba, Tau, and Lorch. This led to frustrations that Mothiba was chasing shadows and even got a yellow card with couple of warnings.
The Bafana Bafana boys breakthrough came in the 71st minute when they scored a header from a Tau free kick. Zungu the goal scorer was clearly offside and thank God for VAR. It was later discovered that the poor Odion Ighalo nodded the ball into the oath of Zungu. The goal was awarded and that gave the South Africa team determination. They attacked hoping to get a goal.
Ekong simple goal in the 89th minute consigned them to defeat. A corner from Simon Moses saw goalkeeper Williams come out to punch the ball away. Well, he punched thin air and Ekong was there to tap in.
Nigeria had a chance to make it 3 - 1 but Ighalo wastefulness prevented that.
The Super Eagles will face the winner between Algeria and Ivory Coast in the Semi finals.
Go go Super Eagles.