Growing up I went to the tracks at way too young an age and was able to place bets on horse and dog races and other sports at like 9 years old. No comment on how or why this was allowed but it taught me a lot of things. I learned fast that racing animals has ethical implications later in life but as a young Axey, being able to go behind the scenes and pet some of the hounds was a blast. Whippets and Greyhounds seldom bark and are either full throttle or in coach potato mode.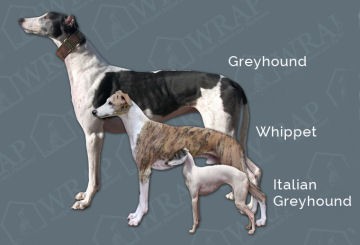 In America, Greyhound racing has really fallen out of favor because of the way the dogs in their 'sport' are treated then many are put down after their winning streaks are over. Many organizations now exist to adopt out Greyhounds since Greyhounds and Whippets are amazing dogs. In fact, we recently adopted a Russian born Whippet that is about the coolest pooch ever! He is still basically a puppy and his past "owners" were well to do and came to the states toting two rather expensive dogs then deciding they just traveled and were too busy for them. Their loss is our gain! :)

Fun Fact: Whippets go up to 35 mph on a sprint so playing fetch goes next level. Today, there are still traditional races in some places but many owners join associations who love the breed and meet up to race them and get that inner Dog-Cheetah out without treating them like collateral. The vast majority of this is for fun and not profit but probably some friendly back and forths happen I'd wager.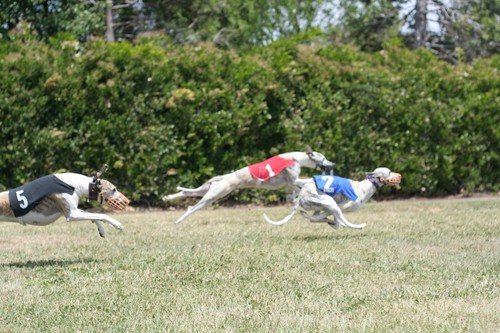 Whippets were known as the poor man's Greyhound in Europe due to only Aristocracy being able to truly hunt the lands using sight hounds with their ancient origins tracing back to the Egyptian Pharaoh Hounds. Whippets are the smaller Greyhounds that wound up becoming a beloved breed in their own right and one of the only dogs who can have all paws up while racing/running just like a Cheetah.
The Whippet is the youngest breed in the Sighthounds family: it was born in about the XIXth century and it was selected by the workers and miners in northern England by crossing Italian Greyhounds, Terriers and Greyhounds. The wider distribution of the Whippet causes outside the Italian borders and sometimes even in Italy the misunderstanding that the two breeds are one and the same and the two names Whippet and Italian Greyhound are interchangeable. One detail distinguishes the two breeds: in addition to the size, higher in the English one, the colour of the coat, which in the Italian Greyhound is always uniform and never brindle, a distinctive ancient original characteristic of the breed. - Alberto Bertelli
My Dog Is Faster Than Yours....No Really, Wanna Bet? (Just kidding around but seriously my dog would fly past your dog unless you have a Greyhound, Whippet or Pharaoh Hound)
Thanks for Stopping by and in the spirit of good Sportsmanship for both Human and Canine alike, the first three comments about this post get 2 SCR each. (must be different people though)