Handball World Cup seems Germany celebrating their second victory against Brazil
Our German national handball team also showed a strong performance tonight against Brazil mainly because of the Uwe Gensheimer as top scorer and Andreas Wolff as goalie. By beating Brazil 34-21 (15-8) to win their second match they fired up the party atmosphere on their medal mission.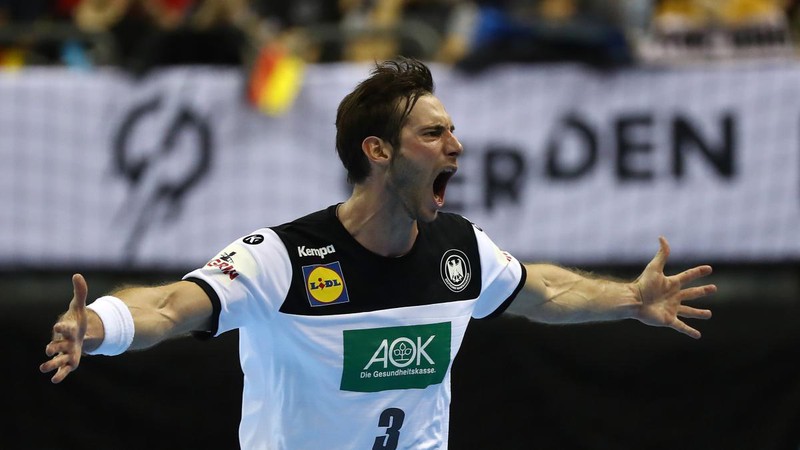 Team captain Gensheimer was the best scorer with ten goals in front of 13,500 spectators and was elected player of the game. With numerous saves, Wolff advanced to a great support with a success that the players didn't expect in this form, as he did with his opening victory against the united team Korea (30:19). On Monday they are up against former world champion Russia.
German team manager Prokop lost World Cup debutant Franz Semper against the South Americans. Due to a a severe cold the backroom player from Leipzig was not available to play.
Prokop with no changes in the starting team
The national coach, however, had the same starting line-up as against Korea, and the DHB team was immediately in the game. Goalkeeper Wolff was almost insurmountable in the early stages, the defence around the strong middle block with Patrick Wiencek and Hendrik Pekeler touched Beton, and in the attack the hosts shone with many variations. The reward was a quick 5-1 lead after a remarkable spin by Gensheimer (9th).
Brazil was a tired after the hard fight on Friday evening against defending champion France (22:24), while the German team pushed the pace. Wiencek and Co. heated up the already good atmosphere with rowing arm movements. The Olympic eighth was impressed.
Germany inspired by atmosphere
The hosts expanded their lead from 9:2 (15.) to 14:5 (25.) inspired by the atmosphere. At the side line Prokop smiled satisfied, the spectators rose from their seats. In the back Steffen Weinhold and Fäth shone, who did not get beyond the reserve role at the Rhein-Neckar Löwen. The players met the demands of the 2007 World Champion. The Brazilians' technical mistakes were used again and again to score easy goals in speed oppositions. After the 22:14 (42.) La Ola circled through the arena.
Russia is next - tough one!