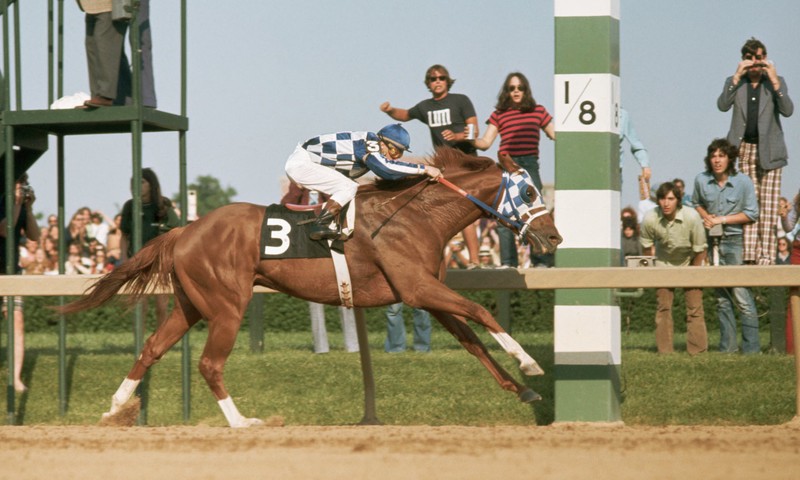 The photo above was taken on May 19, 1973. The horse you see there is named Secretariat. The jockey riding Secretariat is named Ron Turcotte. We get back to that photo a little bit later on, because before we do, you need to know a little bit more about this duo.
Secretariat is one of the most famous horses this planet has ever known. He was a chestnut-colored stallion, one of the strongest horses ever, maybe even the strongest. Born in March 1970, he started his racing career at the age of two. At the Aqueduct Racetrack with jockey Paul Feliciano, he already won the second race he ever participated in. Not just a win, but with a six-lengths margin. He probably would have won his debut race as well, if he wasn't pushed aside early in the race. In that race, he finished fourth, but only one and a half-length behind the winner. You can imagine the talent didn't get unnoticed and he was handed over to the main jockey of the Meadow Stud Breeder, the already mentioned Ron Turcotte.
A deadly duo for all racing horses and jockeys was created as in the next eight races they started they won the race. Only at the Champagne Stakes in Belmont Park, they were relegated to second place in the final standings due to an interference with eventual winner Stop the Music. The strength of Secretariat was now known and another four races later he had recorded another four wins.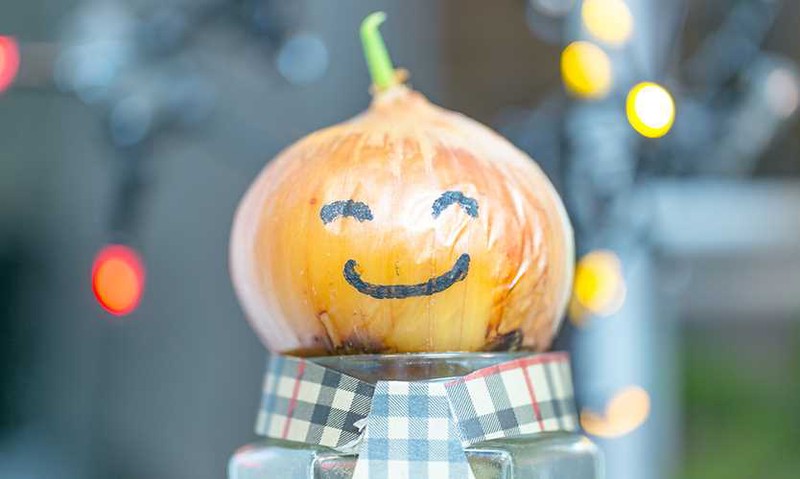 An introduction to me
I just noticed, I completely forgot to introduce myself until now. I was born in 1969, which makes me just one year older than Secretariat. I'm telling you this story even though I'm long dead. I died in October 1995 at the age of 26. The thing that none of you probably know at this stage is that whenever you are a legend you are reincarnated when you die. Well, I was lucky enough to be reincarnated as a talking onion. I even have fingers and a computer, which allows me to share this story with you. Why would I be reincarnated as an onion, is probably what you are wondering about now right? I would love to tell you, but I'm going to keep it a little secret for now alright? Anyway, my name is Onion, nice to meet you Scorum readers :)
Angle Light & Sham
Two other horses back in the days were Angle Light and Sham. Out of these two horses, Sham was certainly the most talented. After all, he was aiming to win the Triple Crown in 1973. The Triple Crown consists of three races for three-year-old Thoroughbred horses. Winning all three of these races is considered the greatest accomplishment in Thoroughbred racing. The first race of the Triple Crown was just two weeks away. Angle Light and Sham were both going to race in the Wood Memorial Stakes. Secretariat would be present as well. What was not known at that time was that an abscess was found under his lip, just a couple of hours before the start of the race. Angle Light took an early lead in that race. He was a horse who had only won races taking an early lead, never by coming back from behind. Sham was comfortably in second place throughout the whole race and came very close to Angle Light in the last part of the race. Angle Light kept the advantage and won the race, Sham was second and the sick Secretariat was third.
My debut
This is the time to reveal my secret. I was also a racing horse. As mentioned above, I was a year older than the other three horses described earlier. For this reason, I was unable to participate in the Triple Crown. Despite being older, I only made my debut a month earlier than the Wood Memorial Stakes of 1973. I won't go as far as saying that these horses were my idols, but I definitely looked up against them. I mean, I was pretty jealous, as I never had the opportunity to take part in a Triple Crown competition. Not that I would have won it, I was simply not good enough. Still, I wasn't bad you know. In my first race I became second, whereas, in my second race, I was third. In my third race, I was second again. It was on the same day as the opening photo of this blog. I'm happy that I was fast enough to be on time to see the race live on television.
The Triple Crown 1973
The race of that photo at the top was the second race of the 1973 Triple Crown. This race was called the Preakness Stakes and was held at the Pimlico Race Course in Baltimore, Maryland. You already know Secretariat won this race. In the video below you can see that he gave all of his opponents a head start. This was something Ron Turcotte always aimed to do, which was related to the interference in his debut race. Secretariat came from far behind, to overtake all horses and winning the race with a two and a half-length margin over Sham.
The first race was the Kentucky Derby, which was held two weeks before. The Kentucky Derby is a race at the Churchill Downs Racetrack in Louisville, Kentucky. This race was a lot tighter than the one at Pimlico. This time Secretariat also gave quite some horses a head start, but he did not come as far from behind as in the second race. Maybe this earlier acceleration gave Sham the chance to stay pretty close by. Perhaps it was also the fact that Sham's dreams to become the Triple Crown winner was already over after the first race.
One more race to go, the Belmont Stakes held at Belmont Park in Elmont, New York. Almost all the other jockeys had already given up at this stage and only five horses including Sham and Secretariat started the race. It was a neck-on-neck race early on between the two favorites. Sham literally had to give it all to keep up with Secretariat as long as possible. By the time Sham started to lose ground he collapsed and dropped down to the fifth and last place of the race. Secretariat went all the way and won in a record time, breaking the previous record by more than two seconds. This record still stands in 2018, can you imagine? In total, he had a margin of 31 lengths to the second horse of the race.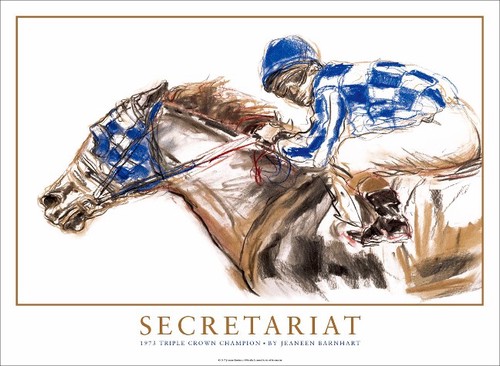 Freaky Friday, 3 August 1973
Two months after the Triple Crown, it was time for the fourth race of my career. I was very honored to be able to meet Secretariat that day. We actually had a good click and in the evening at the stables when everyone else was asleep, we were still awake. Secretariat told me all the stories of his Triple Crown experience and I listened keenly. He also shared a few tips with me, which would be a great benefit in my further career. Our conversation that night lasted quite long. I was worried not to be fit on time for the race tomorrow, but Secretariat told me not to worry too much. The tips he gave me should be enough for both of us to finish in first and second. Obviously, I would be second, but to me, that sounded pretty amazing.
On race day the Saratoga Racetrack was packed. Never before were there that many people. 30.119 in total. The race started and I took an early lead. I still remember how amazing that felt, for the first time in my career I was leading a pack, I was even leading a pack that included a Triple Crown winner. Boy, I was so proud of myself at that stage already. The tips Secretariat gave me worked out so well that I did not lose control. Secretariat was still in third and I knew he would be coming to get me.
Just one more turn to go and there he was, he would now come to overtake me and win the race. I would be extremely happy with the second place though. To my surprise, Secretariat stayed slightly behind me and did not overtake me. I crossed the finish line and I won the race! I won against the Triple Crown champion and suddenly I was a famous horse. All the attention was focused on me suddenly.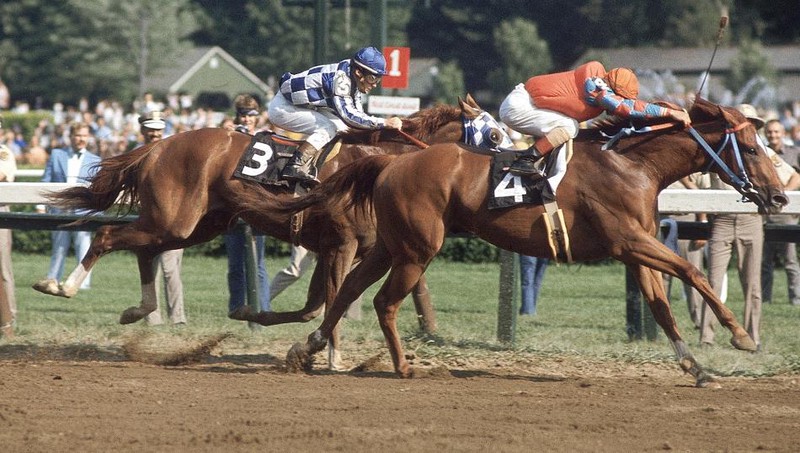 Later on, Secretariat would admit to me that he let me win on purpose. That he wanted me to win and become famous too. A few months later he proved the world that he was still the best as he did indeed beat me and with quite a bit of a margin. I wasn't bothered and I was very happy becoming famous. I won another fourteen races in my career that lasted seven years. We became good friends and we spoke a lot at the stables whenever we met at races. Unfortunately, Secretariat died six years earlier than me, in 1989, only 19 years old.
Reincarnation of Secretariat
As said, legends reincarnate. Secretariat was much more of a legend then myself. About a year after his death Secretariat reincarnated in Palermo, in Italy as a son of immigrants from Ghana. Great immigrants as they were, living in Italy, and fan of Super Mario, they gave him the name Mario. Unfortunately, his parents were unable to take care of him and placed him in foster care.
Many years later Mario broke through as a professional football player at a team named AC Lumezzane. This team was playing in the Serie C1 at that time. Mario was only fifteen years old when he made his debut for the team. The next year he was transferred to Internazionale Milan, I guess you all know him right?
Yes! Mario Balotelli. Don't tell anyone!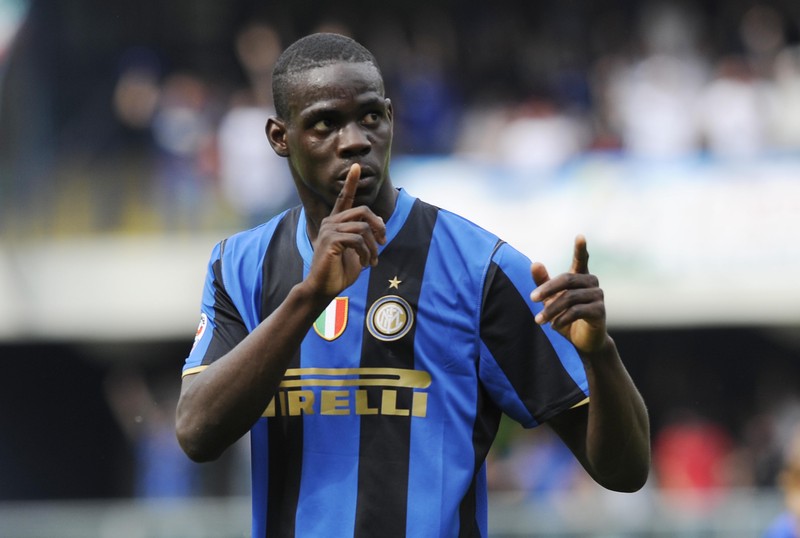 Garlic
In 1981 I got myself a son! Unfortunately, I wasn't able to give my child a name myself. My owner did and, well, if Onion is his father, then why not give him the name Garlic. I honestly don't think I ever made anyone cry, and Garlic actually smelled pretty nice when he breathed, at least for horse-standards. Anyway, proud daddy as I was, I followed all his races on television. My owner was nice enough to get us one in the stables. Garlic never won a race, but I was so happy to see him having fun out there. If only he could have received tips from the Triple Crown champions in the eighties, perhaps he would have made it to the top too!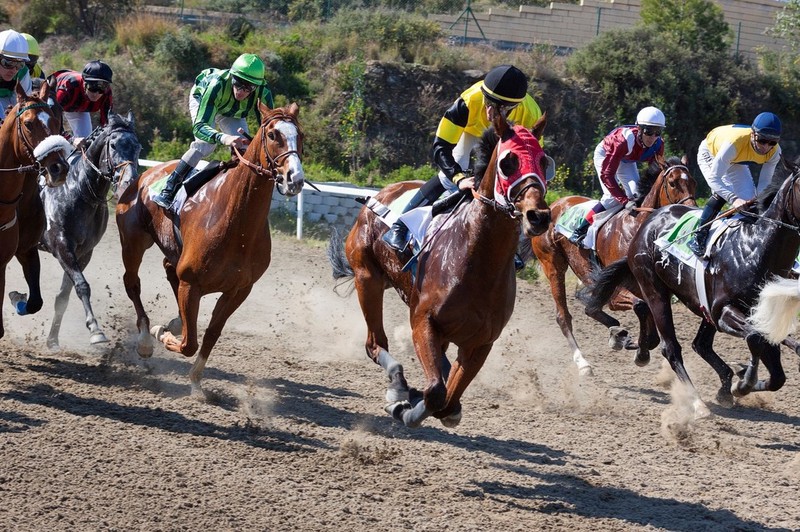 In all fairness, the day I became a legend was actually on a Freaky Saturday, a day later, on the 4th of August, but without fooling around with the date a little, I would not have been able to share this story with you.
Love you all,
Onion
This article based on a real-life story has been dramatized and twisted with reality in order to get to this storyline ready to be submitted to the Freaky Friday competition organized by @pete. Mario, if you ever read this: You're a legend mate!