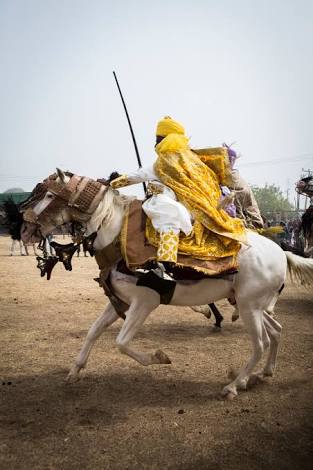 Horse racing started in Ancient Babylon, Syria and Egypt. Both Mounted Horses and Chariots racing were events in the Ancient Greek Olympics by 648 BC and in the Roman Empire... In later times thoroughbreds racing was popular with the aristocrats and royalty of the British society, earning it the title "sport of kings". Wikipedia.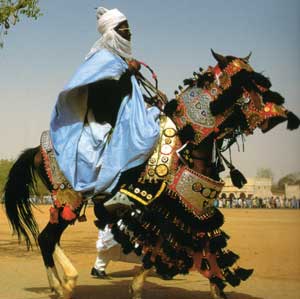 Durbar is a Northern Nigerian traditional Sport of the royalty and their soldiers on horseback. It dates back into time estimated to be more than 400 years. Also, Durbar is a competitive event of culture which showcases the coloration of horses to exhibit sportsmanship in an occasion of traditional chivalry and display of military loyalty to the Emirates in Northern Nigeria.
It is an attractive Sporting event which has well-tended horses, clothed in colourful costumes galloping with riders even more dressed, displaying their local craft. Carrying with them a guarded culture and tradition passed on from generation to generation.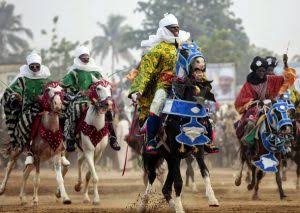 Durbar is done mainly during festivities such as Eid celebrations, marriage ceremonies, the end of raining seasons and for recreational purposes such as betting and mere showmanship of opulence, wealth and allegiance by subjects. The venues are usually at the front of the emirs palaces or squares with no demarcations during a race. Other modern venues are open space of grasslands surrounded by the circular horseracing track that is encircled by two white painted concentric wooden fences or surrounding walls as is the case with Katsina and Abuja racecourses.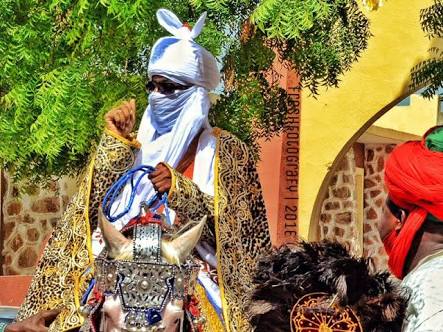 Durbar usually commences with the traditional gun salute, then a procession of Beautifully decorated horses and nicely attired Hausa Fulani warriors will come and pay obeisance to the emir and his friends who is equally dressed for the occasion. The end of the procession will mark the beginning of Durbar racing where Horses and their riders will race at full gallop across the square from a designated spot and terminate in front of the emir.
Considering that it is a sport for the traditional rulers, Durbar has been well regarded and supported by the emirate councils as such horse racing has seen tremendous leap in popularity over the last couple of years and continues to grow. Punter and horse players all over northern Nigeria are dishing out quality racing, making it to become a major source of entertainment and sporting. It is also a favorable hobby for the rich and powerful which has overtime turned people into expert horsemen and courageous warriors.
For over 50 years, there have been annual horse racing across the 19 northern States in Nigeria with States like Sokoto, Katsina, Kano, Kaduna, Maiduguri, Minna Adamawa and Abuja dominating the Sport. The style of racing, distance, type of horse breeds and type of events vary a little from state to state.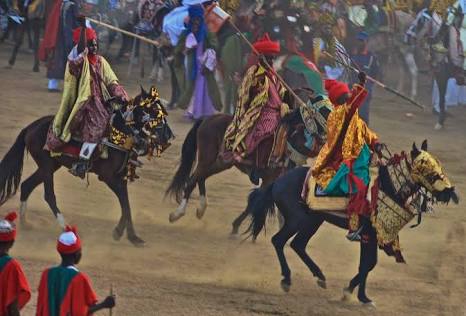 The monarchs say that "betting on horse races enhances one position as a member of the gentry, victory over peers bestows honor upon the winner". For this reason, the royalty, the rich and the friends of the rich will be seen engaging in betting competitions amounting to millions of Naira.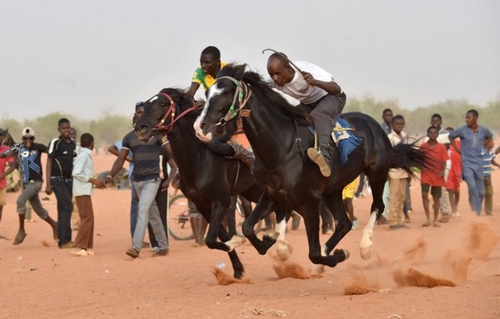 The prices for winners in Durbar tournament ranges from latest car models, Cash donations, Cup trophies as well as holiday trips to exotic destinations and international Tournaments.
It is nearly impossible to come across an ordinary persons in northern Nigeria owning a horse for whatever purpose. The furthest an ordinary person can go is to tend the stables or be a Jockey for the rich and powerful, winning tournaments to fulfill their ego's and royal prides.
All images used are sourced here
I remain yours sincerely @izge.