We are less than two months away from one of the greatest sporting events in the world. While many people don't understand or respect the sport, horse racing's most celebrated event, the Kentucky Derby, is a spectacle worthy of the attention it receives.
Eight years ago, I was able to attend my first (and only so far) Kentucky Derby as Animal Kingdom pulled off the huge upset as a 20-1 underdog. As competition for this year's Derby (145th) begins to heat up, I decided to provide a snapshot of the contenders and where we stand less than 60 days before the big event.
Event Details
Date: 5/4/2019
Location: Churchill Downs, Louisville, Kentucky
Competitors: 20
Entrants: TBD
Official Prize Pool: $2M
Introduction to the Point System
Tens of ownership groups, representing hundreds of horses, all compete for the 20 spots in the Kentucky Derby. The three-year-olds that will be allowed to race in the Derby must qualify by earning points in qualifying races. There are 46, yes 46, qualifying "prep" races.
The majority of races offer 10 points to the winner. These are minor races. Starting this month and going into April, the larger stakes races begin, which offer from 40-100 points to the winner. While there is no point total that will automatically get a horse into the Derby, horses that earn from 40-50 points are very likely to get in.
Current Point Standings
Here are the standings heading into Saturday, before the two major prep races. Each of these horses, unless injured, will have at least one race before the Derby to increase their chances of getting a ticket into the Derby.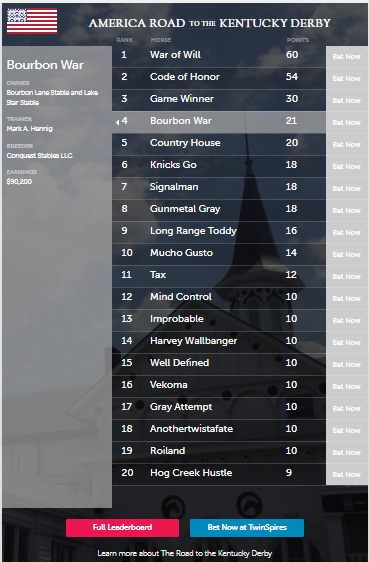 Saturday's Shift
Two massive prep races have given tickets to two Derby hopefuls in Haikal and Tacticus. Haikal made a stunning last-second run, winning the Gotham Stakes, and Tacticus, a big powerful horse, weaved through traffic and held on nicely to his lead in the Tampa Bay Derby. Both horses now have enough points to qualify for the Kentucky Derby.
I'm most interested in Haikal after the two prep races today. His late charge was simply incredible and he was lightly encouraged (whipped). This type of burst is not likely seen from a horse this young and he may still have another prep race before the Derby.
Kentucky Derby Trail Disturbed
Santa Anita temporarily canceled racing after 21 horses have passed away after racing on the track this season. They have already reopened for training, but we have yet to see if they will change the Kentucky Derby prep races that are scheduled at the track.
If the track remains closed or more deaths occur, this would severely impact the presence of West Coast horses in the Derby, which would hurt West Coast trainers like Bob Baffert. Only time will tell, but this is something to keep track of if interested in keeping your eye on the Derby.
Who I Like So Far
Right now I do like the point-leader War of Will. There are doubts due to his breeding suggesting that he should be a better horse on turf. However, War of Will is 3-0 on the dirt with big wins in the Lecomte Stakes and Risen Star Stakes.
I also like Haikal, who I mentioned above, but I will have to review his other races before really considering putting him on my final betting slips and top-10 list.
I usually tend to lean towards underdogs, but I'll try to stray away from my bias and look at who is most likely to win, regardless of if they are a favorite or underdog.
Stay tuned for more updates and my ranking of contenders. I will begin watching all of the prep races and developing my list as we get closer to the 145th Kentucky Derby.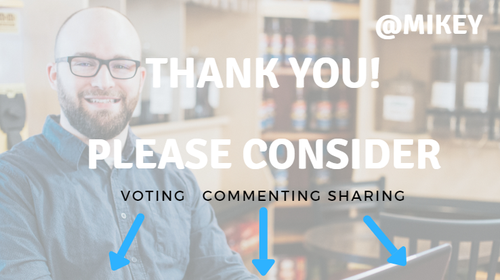 Do you have any interest in the Kentucky Derby? Why or why not? Please comment below.