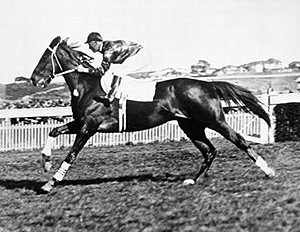 In the 1930s life in Australia was tough, jobs were scarce but it was hard to win some money at all. If you could scrap up a shilling or pound and put it on a horse that was guaranteed to win, a sure thing Phar Lap, an Aussie legend. His record was glorious while he lived but the strange circumstances around his death in foreign land began a mystery still debatable today. Was the greatest horse ever lived poisoned by his own vet? Was he slipped some deadly feed? Was he killed by the mafia?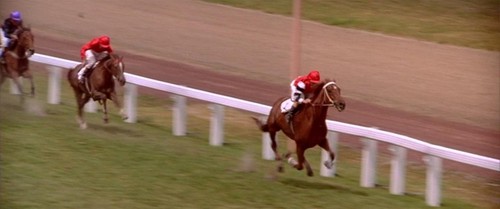 A lot of Australian people think he was poisoned, the investigations began in Victoria were the phar Lap legend began. In 38 races he won 34 including winning 14 races in a row. Phar Laps inspirations came from a stable boy, Tommy Woodcock. Phar Lap and woody were inseparable. In 1930 the horse was hero, after all he was winning every race but he was making enemies too as races cost a fortune and the payouts were huge.
After Phar Lap won the Melbourne Cup three times in a row, trainer and owner of the horse decided to him to the USA to race in a prestigious and high paid Aqua Caliente Cup but not everyone wanted phar Lap to leave the country. Many Australians were opposed to the idea of sending him overseas, I think it was a fear before phar Lap went that if he would leave, he would never come back. Phar Lap won so convincingly that some said he wouldn't allowed to live and racing in the USA at that time was tough business controlled by mob and mafia. At 4.30am on the 5th of April 1935, Phar Lap was woke with a fever. Veterinarian William nelson (who travelled with him from Australia) treated the horse which made him much worse, he fled to seek opinion. After mid-day phar Lap had died. Tommy threw himself onto the horse and cried and the nation stopped.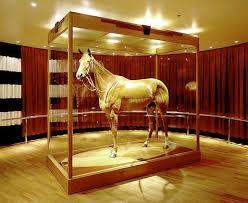 The two most persistent opinions theories were that he was deliberately fed wet/damp oats which brought on a fatal attack of colic or it was an arsenic poisoning in his stall. His body was immediately sent home to Australia for the people to mourn his death. The magnificent body was preserved and has been exhibited in the Australian museum since 1936, this is more like a shrine then an exhibit. His heart was also preserved and exhibited in a museum in Canberra. Generations of Australians (including myself) have been told of this legend and have gazed upon the giant heart of Phar Lap. No one will ever know the reason of his tragic death.
What are your thought on the death of Phar Lap? Thanks for reading my post guys :):):)