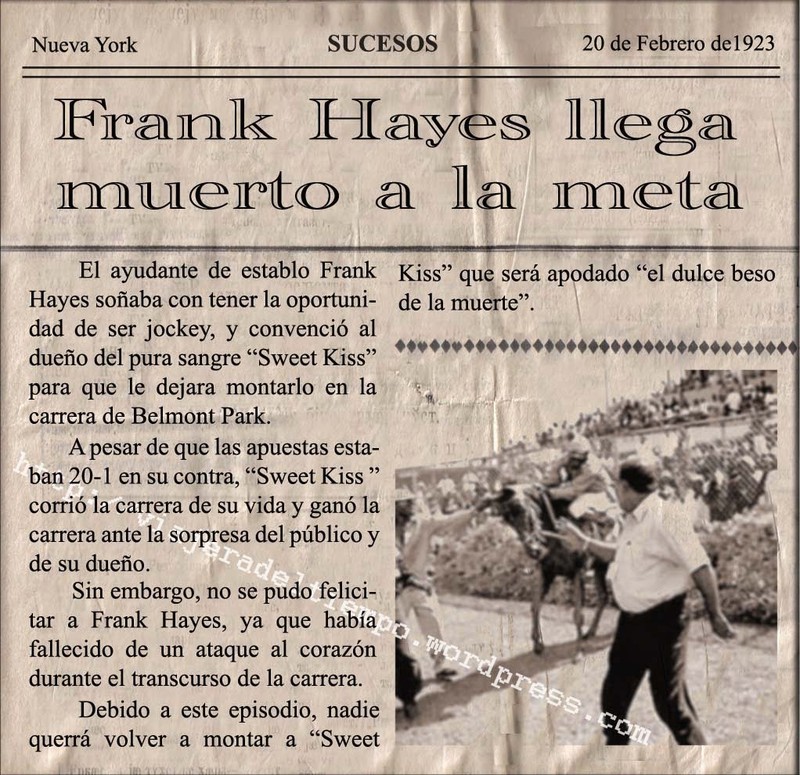 There have been many news on jockeys who died or injured by falling from the horse during the race. We read those kind of news on newspaper corners or websites. I can hear that you are saying "Come on! No way" when you read the title of this article. But it's a real story beyond an urban legend.

Frank Hayes was born in 1888 in the United States. In fact, Hayes was a horse instructor not a jockey and had never won a race before. In 1923, when Hayes was 35, he participated in a race with Sweet Kiss at Belmont Park in New York City as a jockey. Hayes, died of a heart attack during the race but did not fall from the horse and Sweet Kiss won the race. The horse owner and the race authorities who came to Hayes to congratulate him realized that Hayes died. However, the Jockey Club relinquished all of its rights after this incident, and Hayes was the first and only jockey to win a race after his death.
Officials suggested that Hayes might have died as he lost a significant amount of weight in a very short period of time in order to participate in the races. Three days after the incident, Hayes was buried in bright jockey attires. After this interesting race, the winner of the race Sweet Kiss never competed again.