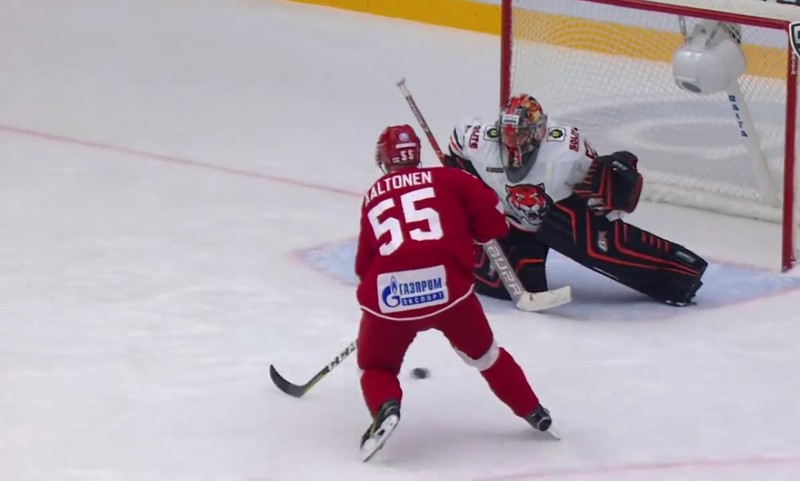 It was Nikita Kucherov who made it famous, even though he didn't invent it. But Finnish player Miro Aaltonen took the example to score insane penalty (no-)shot.
Aaltonen found himself in the spotlight during KHL game between his team Vityaz Podolsk and Amur Khabarovsk. At 10:02 of the first period, just 71 seconds after opening the scoring for Vityaz (that's Russian for 'knight') he got a chance to score again on a penalty shot. And he did, with stunning 'phantom' move, that completely fooled opposing goalie.
That was exactly the 'losing puck' trick Kucherov faked out Braden Holtby with twice - once in a regular season game and another time in the All-Star Game. And he did it also to Robin Lehner in March 2017.

But while it's a Russian's moniker, not many people seem to remember that Jason Williams had done it in the NHL long before Kucherov. It was 2009 when he scored using 'phantom move' for Columbus Blue Jackets against Toronto Maple Leafs. Justin Pogge was Maple Leafs goalie at the time.
Miro Aaltonen was Anaheim's #177 overall pick in 2013, but he has never played in the NHL. Last year he signed Entry Level contract with Maple Leafs and helped Toronto Marlies to win the Calder Cup, as a part of terrific 'Swedish Meatballs line', even though he's actually Finnish. But they also eat meatballs in Finland anyway. His former linemate Andreas Johnsson is now a regular in the NHL for Leafs and the other 'meatball' Carl Grundstrom is still with Marlies. But Aaltonen didn't want to spend another year in the AHL, waiting for a possible call-up, so he decided to come back to Europe and sign in the KHL.