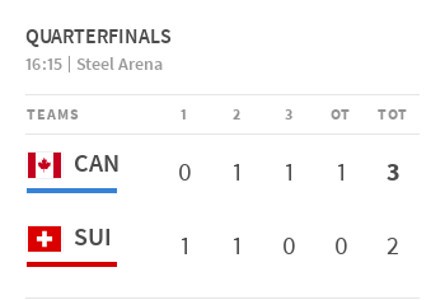 Canada won Switzerland in the most dramatic ice hockey game I've seen for long time with golden goal in extra time. Final result was 3:2 for Canada.
Sven Adnrighetto scored in 18th minute for Switzerland, Mark Stone equalized in 26th, Nico Hischier gave Switzerland lead in 40th minute and Damon Severson equalized in 59:59 just 3 hundredth second before full time! What a crazy game that was! Dramatic finish where Canadians attacked without success until the end. Switzerland goalkeeper did miracles on goal.

Two minutes before full time Canadian coach took out goalkeeper and let player in to get some power play in all or nothing manner. Switzerland had one shoot at empty net 15 seconds before full time which goes wide. Then in last few seconds Canadians tried to shot, but get blocked until second to the end when scorer managed to hit pack really good. It looked like Switzerland goalkeeper did not see the pack well, he touched it, but pack passed him and in race with time moved over line just 3 hundredth seconds before full time. Canadians have gone wild from happiness while Switzerland players and supporters stood still in disbelief what just happen. After review of recording referees said it is valid goal and game went in 3 on 3 extra time for 10 minutes.
Canada had first chance, but did not score then Switzerland threatened with dangerous attacks, but no one could score in first 5 minutes. Then Canada finally made good attack which Mark Stone converted in golden goal for great celebration and tears on faces of some of Switzerland players.

Canadians made cruel revenge to Switzerland for defeat in last World Cup campaign. They will play against better from game between Czech Republic and Germany which will probably be Czech Republic. That would be interesting semi-final between well-developed Ice Hockey nations.