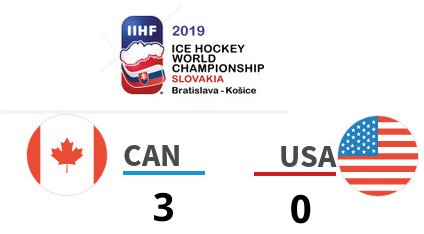 Canada faced USA in 7th round group stage on Ice Hockey World Championship. In exciting game Canada won 3:0 (2:0, 1:0, 0:0) and ensured first place in group. This defeat sent USA squad on 4th place and setup derby in quarterfinal against Russia. Goal scorers were Pierre-Luc Dubois in 2nd, Kylein Turris 9th and Jaredin McCann 36th minute. Man of the match without any doubt was Canadian goalkeeper Matt Murray with more than 30 saves during the game. Twenty four years old man born in Thunder Bay Ontario, goalkeeper of Pittsburgh Penguins save literary all shots and keep "clean sheet".
Canadians took the lead after great move of player behind the goal. He managed to smuggle the ball toward teammate and skate like he is going on other side. American goalkeeper expected shoot from other side and turn around on wrong side and when he realized that pack is on other side it was to late as it started to fly toward the empty part of the net. Canadians were clearly better side at the beginning and quickly increased lead to 2:0 after experienced push of American player after which he lost the pack and Canadians went in quick counter attack which ended with pack in net. Near the end of first third Americans started to pressure, made few big chances but superb Matt saved all. Canadians waited chance on counter attack.

Second part of the game gave us 1 power play for both sides, but they didn't score. Canadians increased lead to 3:0 after good action and surprising shot from few meters. My opinion is that American goalkeeper should save that shot. Until end of the game Americans did press made few chances, but was unable to score. Canadians had chances over counter attacks, but also did not score any more goals.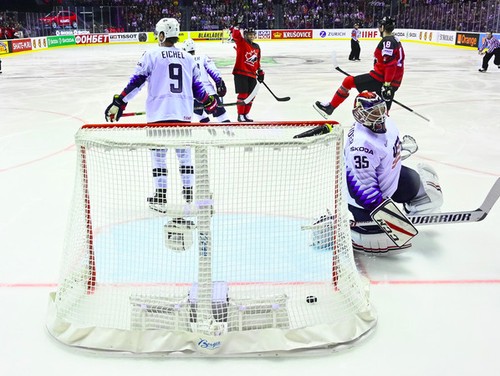 In first part of the game bizarre event happen when pack hit American player when it hurts between legs and he was forced to leave the game. Also one goal for Canadians has been disallowed after watching recording because player brought stick higher than goal before scoring.

After this game Canada is first in group and will face Switzerland in quarterfinal, while Americans will go to 1st squad of group B which is Russia and they look like punishment expedition as they annihilate Sweden giving them 6 goals in second part of that game.