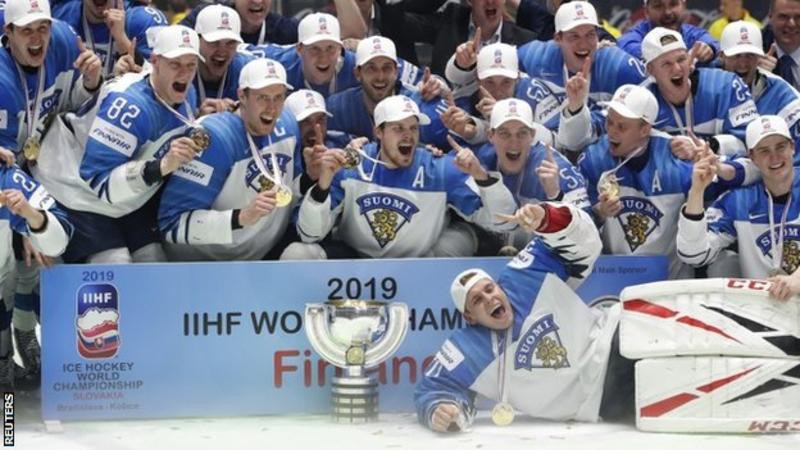 Finland won Canada with 3:1 in World Championship final last night. It did not look good for Finland in the beginning when Canada goalkeeper saved penalty and few more great chances before SheaTheodore gave Canada lead in 10th minute. Puck was already lost for Canadians, but one player somehow regain it, then Theodore had great chance in front of keeper which he did not miss. Both teams were nervous, a lot of non sport moves could be seen like elbows in head, stick to throat, stick between legs, wrestling on the ice etc... Fortunately referees quickly gain control of the game with few two minutes senting offs. Canadians failed to increase lead as Finland goalkeeper was very good in this game.

As soon as second part of the game started Canada goalkeeper conceded goal which he could probably save another day. Marko Attila's low shot in 23th minute somehow passed through his legs as he failed to move down on time. That was game changer! Matt then saved some difficult shots, but result didn't change. Canada attacked, but could not score. They hit post or even place where post and crossbar bar connect, but result remained the same.

Goal gave wings to Marko Attila as he continued his rampage in third period. In 42th minute he scored for Finland again giving them 2:1 lead. One Canadian lost stick and Finland players capitalized on confusion between Canadians as Attila came alone close to the goal and scored. Canada players pushed hard in attack, dominated on ice, but could not find a way for puck into Finland goal. During their full scale attacks in 54th minute one counter attack happen and Hary Pesonen shot ended up in goal. This time Canadian goalkeeper Matt Murray was to low on ice and failed to stand up on time and puck went in above him. He would save that shot another day for sure. It was just not his evening. Rest of the game Canadians tried to score with extra player as they removed goalkeeper from goal, but result remained the same.
At the end result was like in group stage 3:1 for Finland showing that big boys from NHL have real big problems with this relatively anonymous ice hockey players from Finland. How else to explain 2 defeats with same result ? It was not coincidence! It was "one of those nights" when nothing is going right for Canada on both sides in attack and in defense. They made big mistakes in defense, they could not score more goals in attack. Pierre-Luc Dubois had great chances, but couldn't score, Matt conceded two nescient goals and that was enough to end dream about gold medal. To be honest Matt did great goalkeeping until final, was man of the match in few games, but in final he has not on necessary level.
Finland players knew how to celebrate this wining with a lot of Suomi fans came from their country to support them. Congratulations!