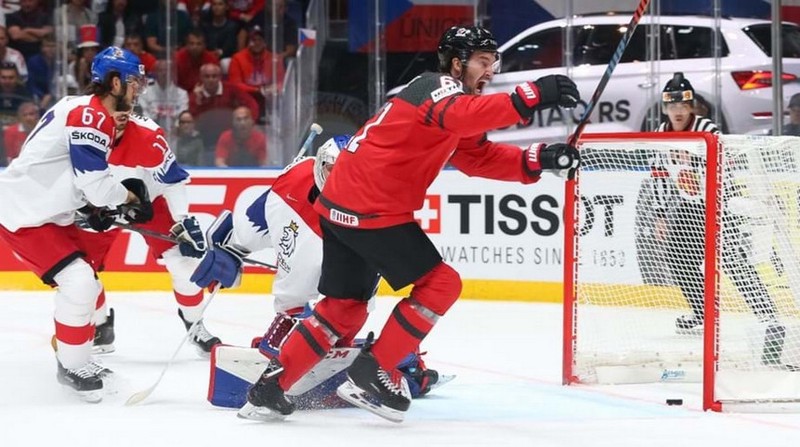 After torturing and resurrection against Switzerland in quarter final Canada faced Czech Republic in semi final. Two well developed Ice Hockey nations and old rivals played each other and Canada won 5:1.

Mark Stone brake deadlock in 6th minute from close range after some lovely passing on the ice. It was low show on the ice, Czech goalkeeper could do better, but he goes out of goal in attempt to prevent it. Second came in 21th minute by Darnell Nurse. Canada player skate behind the goal quickly cached deflection from Czech goalkeeper and very quickly put it in the net in other side of goal. In 26th came third after good pass which found scorer Pierre-Luc Dubois in front of unguarded part of the goal and he scored easily. That was knock out for Czech Republic. They were not so bad they attacked, made chances, but super Matt did miracles on Canada goal. He saved just everything and kept Canada with comfortable 3:0 lead. This one bellow was quit superb.


Thomas Chabot and Kyle Turris continued this rampage of Canadians and increased lead to sky high 5:0. Nice actions and beautiful individual skill! Then in 54th minute unimaginable happen and big Matt conceded goal. Tomas Ohorna finished one quick attack to score this consolation goal from close range. Super Matt did not keep clean sheet, but he was definitely man of the match for me.

In other game punishment expedition from Russia was unable to score against Finald and lost 0:1. Final game between Canada and Finland will be tonight at 20:15 CET. Finland is only squad which defeated Canada in this tournament in group stage. We will see if they could do it again. They looked very good against Russia, but Canada looked very good too. Canada's coach said that they are happy to play again against Finland team who won them on this tournament and hopes for better result tonight. Well he could be right if super Matt has his night tonight again.