The international break has made the betscorum's atmosphere somewhat gloomy as there are not many fixtures to carry on the betting activity. And, no activity means no fun but I was thinking that 'this is Scorum', a platform of highly energetic, active and fun-loving people so why don't we explore the dungeons of our creativity and generate something interesting which might even be for long-term use.
As you might know that some of the other platforms are already advancing with such projects e.g. 'Drug wars' and have indulged quite a huge population on becoming the mafia of the imaginary drug production. On the contrary, we have a real product at hand and with a proper layout of 'Scorum ROI wars', we might be able to hit it off globally.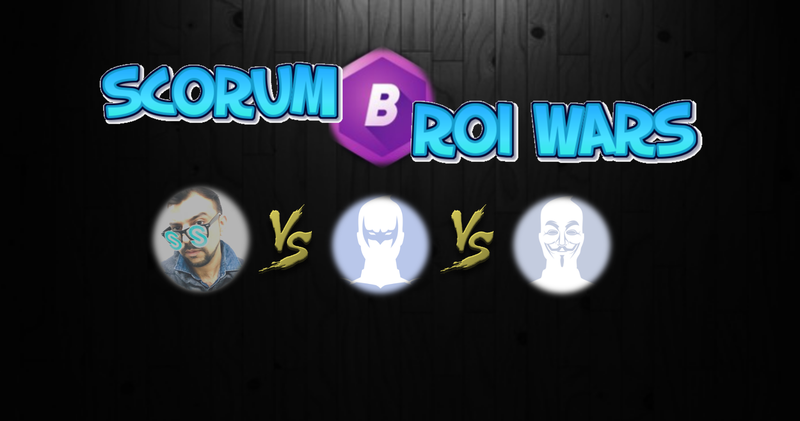 ---
What is Scorum ROI Wars?
Well, the initial idea is simple and we can have a foggy glimpse of the first episode in this post. But, I have many possible fun scenarios in mind that we can incorporate later and there is room for unlimited expansion, however, for that we shall need the help of some developers.
Currently, the participating bettors would compete with each other on the pre-chosen fixtures to achieve the highest ROI among all. There would be one winner each week for a period of 3 weeks, and each one would receive a reward. It can be the same winner for all 3 weeks or a different one. Not only that, but the one with the highest cumulative ROI after 3 weeks would get a 'bonus reward'.
As you know that ROIs are irrelevant of the amount of stake, it is profit/stake, therefore only the correct picks or the variations in the odds would make a difference. I believe, if a user would be able to grab some boosted odds offered by Fortunabetting or Fraste, it would surely help. Currently, this would be a manual calculation by snapshot submission but I believe we can convert it to an automatic one later.
Scorum ROI War's Card:
This is currently a (one-time) requisite for entry to the ROI wars. The participants have to submit the following details to betscorum discord channel's ROI war ID section:
A profile picture; the current one or any of your choice, BUT, be creative and a fun person to grab another 15 SCR reward added to your winnings if you provide yours/unique picture taken with SCR or Scorum included somehow (See mine for reference).
Betting experience; The dialogue of your choice, or it can be a ballad.
Mostly bets on; Same as above. Be fun, be creative, we all are here to see Scorum grow.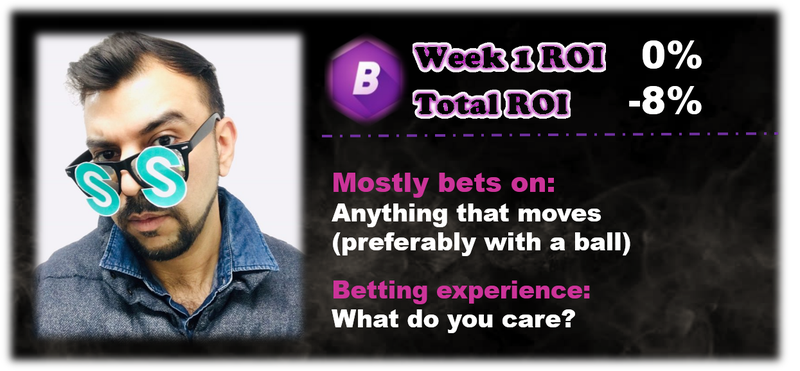 How to play Scorum ROI Wars?
By the following simple steps;
I shall announce 3 matches based on the availability/popularity/low activity etc
The participants would place bets on any of the 1X2 options of that match according to their predictions.
The user with the highest ROI would be the winner.
Conditions & Info:
The minimum stake would be 10 SCR, which I believe is small enough for everyone to participate yet sufficient to fuel the activity.
There is no maximum limit.
Only one bet per fixture would be entertained.
Kindly, submit the snapshots of your placed bets and results in the betscorum discord channel in the 'ROI Wars' section.

I understand that submitting the snapshot option is a bit hectic and I shall try to find an alternative soon.
Rewards:
25 SCR for the winner of each week (highest ROI). The ROI can be negative as well, it's simply the best among the worst.
50 SCR for the cumulative highest ROI after 3 weeks.
15 SCR if you win any of the above and your ROI card DP included SCR/Scorum (user holds the ownership).
If you write a comprehensive article explaining the reason behind your picks for ROI war fixtures, you would get a full upvote at least from me.
Reward example: User A wins for 2 weeks and with the above conditions the total SCR prize would be 25+25+50+15 = 115 SCR
Fixtures for the 1st week of the round A
(USA Major League Soccer):

---
Call for assistance:
As I mentioned before, we can expand this project to an enormous extent. For now, we may need to do some things in the first place:
Collect automatic submissions by the participants: For example, I place bets on these fixtures and I subscribed for the ROI wars, my entries would be automatically added after placing a bet on betscorum and after the match, the obtained ROI would be calculated and summarized. I believe it is possible by using one of the discord bots. Kindly, provide your support if you can, I shall be grateful to you and of course, your contributions would be acknowledged.
Suggestions/Contributions/Feedback: This would surely not be a one-man's job and we all shall have to join hands in order to make this platform grown. Therefore, you are welcome to join with any possible positive actions.
Let's take "Scorum to the moon"