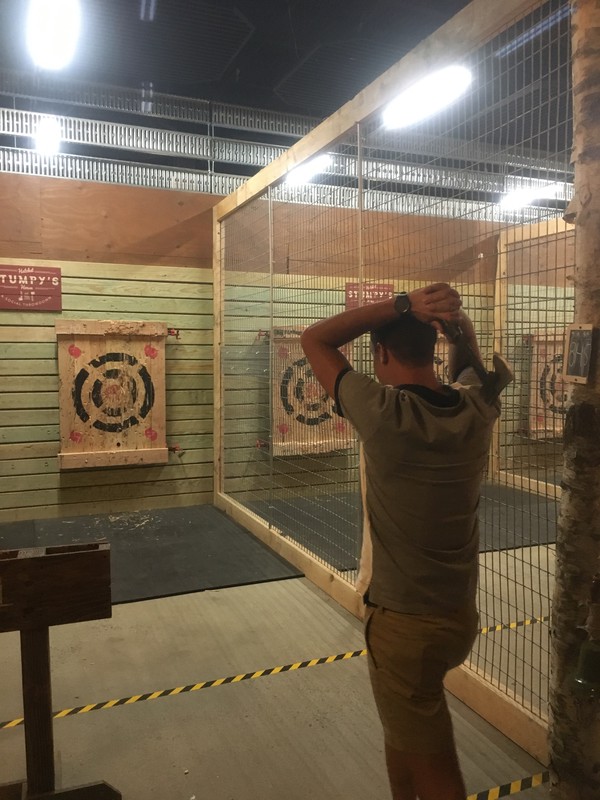 Adults can sometimes have a tough time finding new ways to have fun, especially when the weather is bad. We can't exactly go to Chuck E. Cheese's anymore, and the movies are mostly reboots and remakes. Well that problem is finally beginning to end thanks to Stumpy's Hatchet House, where you can have fun throwing hatchets at targets in a safe setting while sharing a few laughs and even a couple beers with your friends.
Stumpy's Green Brook opened earlier this year in the old Capital Lighting building right on Route 22 by Washington Avenue. It's one of a handful of locations that has opened throughout the country during Stumpy's rapid expansion over the past two years. That growth is showing no signs of slowing down since its start in Eatontown, NJ. Like many great ideas, company founders Kelly and Stuart Josberger and Trish and Mark Oliphant stumbled upon something great in the midst of adversity. It was right after Hurricane Sandy, and they were chopping up all the fallen trees in their backyard. They cooled off with some adult beverages and made up a game by throwing hatchets against a stump. After a few hours of fun, they realized they might be on to something. Stumpy's of Eatontown was the result.
Meanwhile, Monica and Mark Milan, friends of the Josbergers, were a couple of entrepreneurs looking for a fresh start. It was important to them to start a business that would provide a meaningful service to its customers in order to, "bring some happiness into this life, and adventure to this location here in this part of New Jersey," explained Monica. So when the opportunity to open this franchise popped up, the Milans jumped on the idea.
Good thing they did, because Stumpy's Green Brook has been an instant hit so far. When you walk into the pit area, you'll be given safety instructions and the standard waiver. Then your group will be given one of their 14 throwing pits, each of which contains a big wooden target and some hatchets. Their staff will even show you proper throwing techniques so you can jump right into the action. If you're more of the structured type, Stumpy's has various point system-based games you can try. There's even league play!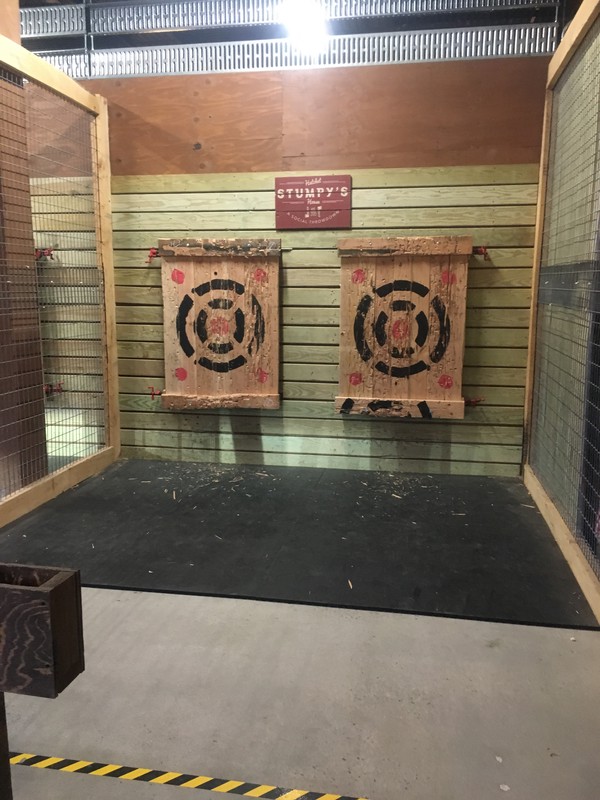 Though if you're like me, you want competition but with a stronger emphasis on casual fun. No place other than Stumpy's has you better covered, thanks in part to the perfect synergy they have with neighboring Capital Craft, a restaurant and tavern. Capital Craft patrons frequently migrate over to Stumpy's, or vice versa. Thanks to Stumpy's wristband system, you can even go take a quick break over at Capital Craft and then come right back and continue the fun. But why even leave? If you're at Stumpy's for a while and, "would like to order a burger, or anything really, they'll just walk it right over," said Monica. Stumpy's is 21 and over, so it's BYOB. There's also a snack bar on site.
Stumpy's rather open policy on outside food and drink makes it perfect for corporate events, which it has already hosted a ton of since its opening. After all, hatchet throwing makes quite the unique team-building exercise; it's about as far away from the cubicle as you can get. They also welcome birthday parties, bachelor/ette parties, and even divorce parties!
At the end of the day, throwing away the stresses of the outside world is what makes hatchet throwing at Stumpy's so fun and special. After Monica went through a health scare and long recovery process a few years ago, she and Mark really wanted to do something meaningful with their lives. "After I was able to overcome that, I just wanted to give other people hope and I feel like a lot of our customers do experience that when they walk through the door," she said.
That positive attitude at Stumpy's will help you overcome any fear you may have of the sport. "You're courageous," Monica tells our readers. "My advice is to walk through the door, let go of anything that's holding you back, and have a great time."
For more information or to make a reservation (which is encouraged but not required), check out their website at stumpysgreenbrook.com. Stumpy's is located at 159 Route 22 East in Green Brook, NJ.