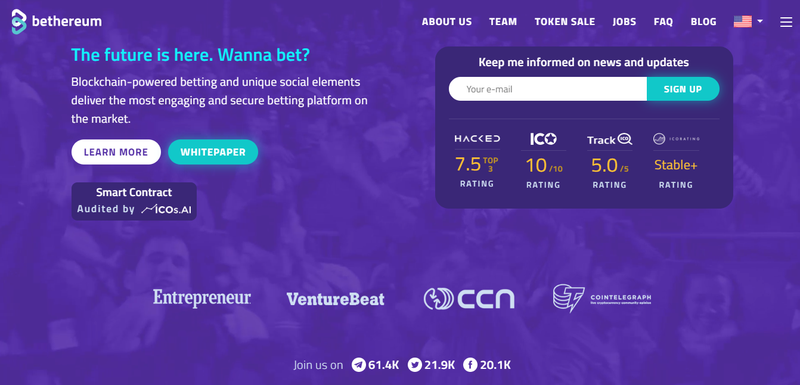 Betting on the blockchain is not new, but the billion-dollar industry continues to grow in this space with a flood of new projects every month. The promise of security, lower fees, and transparency turn skeptical bettors into believers, and those are three of the main benefits that will help transition people from placing bets with bookmakers and casinos to wagering in cryptocurrency.
Sorting through the mass amount of projects in this space can be difficult, but several initiatives stand out to me as real contenders in this space. In this post, the first of many sports-related projects and ICO reviews I plan to write, I'd like to introduce you to Bethereum, a unique betting platform I've been following since January 2018.
What is Bethereum?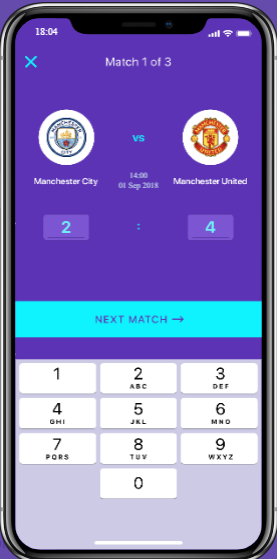 Bethereum (Bet-theory-um) is a socially-driven betting platform that is striving to become "the most engaging and secure betting platform on the market." Bethereum has been a very active project although the full version of their product has yet to be released.
The team has grown their online presence to include over 60,000 Telegram followers and over 20,000 followers on Twitter. Earlier this year, the company hosted a World Cup competition with thousands of participants, giving away millions of BETHER tokens. They also tested their platform during a bounty campaign by allowing participants to wager the points they had earned in the bounty to win more coins. Out of a select group of contests, users could choose which side to bet on, and their winnings would be based on how many other bet on that side instead of betting against a spread.
Imagine that Machester United is playing against West Ham United. If 90% of participants bet on Manchester United, then the 10% who wagered on West Ham, if they pulled off the upset, would receive roughly 9x their bet back in winnings.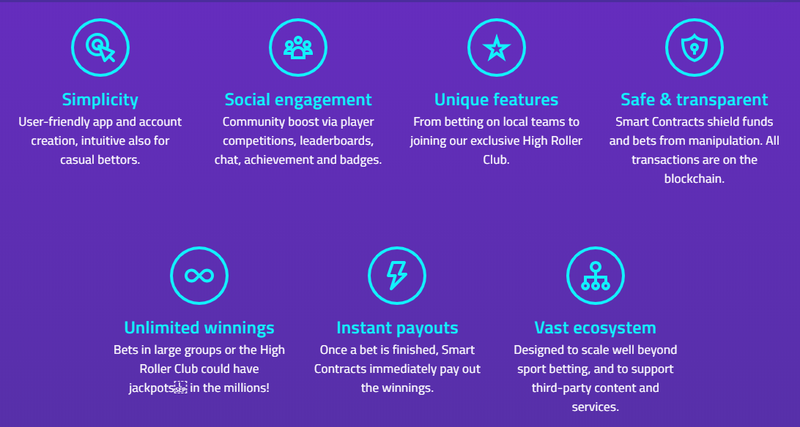 Bethereum allows bettors to wager using the BTHR token. Users can challenge their friends or join existing contests, and contests can include a single match or be a parlay where each participant has to predict the winner of each contest. The winner is determined by a mix of predicting the teams that win and the final score of the game.
The platform recently announced that they would be switching from ERC20 to ERC223 to save on gas costs and avoid several issues associated with ERC20 tokens.

The token is designed to reward hodlers who aren't regular bettors. A small percentage of each winning bet will be collected as a fee, and a percentage of that fee will be burned. This token burn will continue for several years or until only 50% of issued tokens remain. With 1B tokens being issued initially, it is reasonable to expect the value to increase over time IF the betting platform is attractive and able to retain their user base.
My opinion
I am biased, so take everything I say with a grain of salt. I've really liked this project from an early stage. Their team, like here on Scorum, may not have big flashy names on it, but over a course of time they have earned my trust and shown their talent with superior design and excellent support. When the bounty program had bugs, the team announced the bugs and their plan to fix them before most of the community were aware of them. They provide regular updates and have continued to make improvements.
That being said, the betting space on the blockchain is EXTREMELY competitive and I believe that only a handful of projects will be left standing in a couple of years. I like Bethereum's approach to be a social betting site. They have used social media very intelligently to promote their project and give users an opportunity to show off their bets to their friends. This team is betting on the act of betting becoming a more integral part of our social activities, which I agree with, especially with the recent legislation in the U.S.
My Uneducated, Unscientific Rating of Bethereum
Concept: 8/10
Originality: 7/10
Team: 7/10
Industry: 9/10
Token Utility: 7/10
Token Value Potential: 9/10
Project Progress: 8/10
Score: 7.85
Learn More
Whitepaper (English)
What Do You Think?
What's your review of Bethereum? How do you think this project will do once it's released?
Disclaimer: I got involved in this project early as a part of their bounty program and have a small amount of Bethereum tokens. This review is my personal opinion of the project and not financial advice.