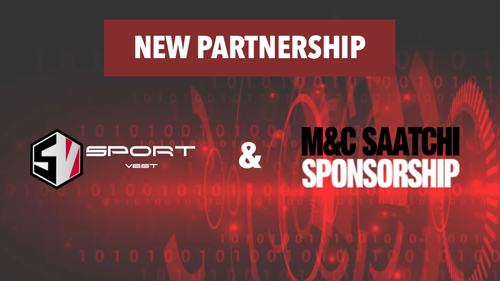 SportVEST are excited to announce a strategic partnership with Madrid based; M&C SAATCHI Sponsorship part of M&C SAATCHI PLC Group, the Worlds Largest Independent Creative Agency with 27 offices throughout the globe. Utilizing their expert knowledge, resources and networks SportVEST will seek to derive more brand value while gaining access to unique opportunities offered by M&C Saatchi in the global sports space. Our partnership is built on trust, respect and the vision that sports forms an important pillar for many communities.
M&C SAATCHI, a London Stock Exchange listed company, founded in 1995 is a globally recognized brand and leader within its sector specializing in; advertising, customer experience, innovation, marketing and sponsorship. We support some of the Worlds leading brands adding value with principals such as:
Brutal Simplicity of Thought




Diversity of thought




Independence




Ownership
The commercial landscape has evolved. Sport investment must deliver tangible returns for investors and rights holders. We navigate this new commercial World to maximize further revenue streams for right holders and deliver successful innovative solutions for brands.
"We are really proud to partner with a leading Sports Venture Capital Fund such as SportVEST. Our clients are looking forward to reinforcing their market positing and investment through its innovative sport blockchain funds."
Victor Cobos: Founder M&C SAATCHI SPONSORSHIP
SportVEST, is a Tokenized Sports Venture Capital Fund on the blockchain investing in the sports ecosystem creating sports as a new asset class. Our aim is to democratize and simplify investments into sports startups, Post Seed/Pre-Series A, which have difficulties finding support within the more traditional business environments and sources.
"We are excited to partner with such a globally respected, forward thinking brand as M&C SAATCHI SPONSORSHIP" and look forward to working with them delivering value to our LPs and the sports ecosystem as a whole. With the support and experience of M&C SAATCHI the SportVEST brand value will grow allowing us to explore previously untapped markets"
Ben Godfrey: Founder & General Partner SportVEST
Our commitment to sports at the intersection of blockchain and our common principals is what brings SportVEST and M&C SAATCHI SPONSORSHIP together.
For more information visit: sportvest.io and mcsaatchisponsorship.com.