Get Paid in Crypto By Simply Searching On Presearch (Google Interface)
The internet has been a wonderful tool and a platform that has consistently pushed innovation over the last few decades. We have become so addicted to internet in our day to day lives that it's difficult to think of a life without internet.
It connects more than half of humanity from all over the world, It reshaping industry, Society and much more at an unprecedented pace. We get our daily feed from it, Connect with friends and family, We use it for entertainment and many people make a living using the internet.
When it comes to search engines, Google is by far the biggest search engine around and is the gateway to the internet for the majority of users. It offers a free service which has built up one of the most complex and accurate data warehousing program the world has ever seen.
Google has Centralized user behaviour on the internet and selling it to the highest bidder has made Google extremely wealthy and while selling off our privacy for a service that makes the internet easier seems like a small price to pay it might not be your only option for much longer.
INTRODUCING PRESEARCH...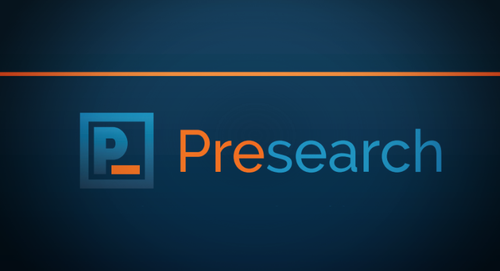 Presearch is an open and decentralized search engine based on blockchain technology. Presearch rewards community members with Presearch Tokens for their usage, Contribution to, and promotion of the platform. It is a ground up, Community movement, Similar to Wikipedia. Human curation is an important strategy that is combined with scalable machine learning approaches. This curation and overall development of the platform is incentivized with PRE (Presearch Token) exchangeable tokens that reward participants' efforts.
Get Direct Access To Presearch By Clicking Here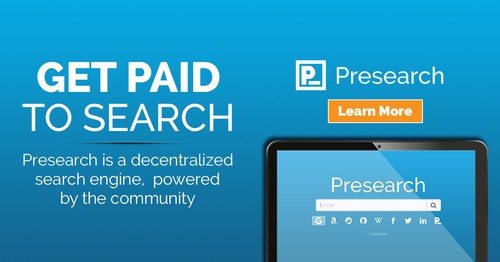 Presearch introduced their beta search platform in November and launched in open beta in April. Presearch rewards users in the form of PRE tokens to offer them an incentive to try the platform out and build momentum for the project. Currently, more than 25,000 users use the portal to conduct their everyday searches and Presearch is aiming to hit the 100K mark by the end of May.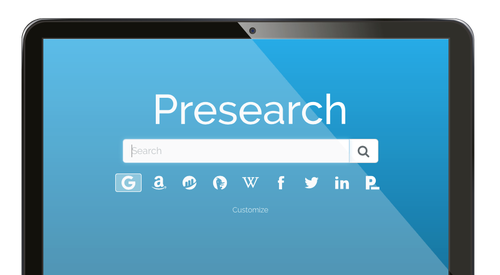 Blockchain has begun to sneak its way into every facet of the internet and it wouldn't be long before one project looked at disrupting the search market. An ambitious cryptocurrency called Presearch aims to grab a piece search market with its own take on search.

Get Direct Access To Presearch Here
WAYS TO EARN ON PRESEARCH (PRE)?
Users will be paid 0.25 (PRE) for every search they make on Presearch through the Presearch website or web extensions.
Presearch (PRE) users can earn digital currency via exchanges. Users can earn tokens through trading on different fiat and cryptocurrencies and take advantage of market fluctuations.
WHERE CAN YOU BUY PRESEARCH (PRE)?
Presearch is listed on a few of international cryptocurrency exchanges and is actively traded on websites like:
HitBTC
CoinExchange
YoBit
WHAT IS PRESEARCH USED FOR?
AllMusic, Amazon, AZLyrics, Baidu, BBCBing, BleacherReport,Blockchain.info,
BusinessInsider, CBC, CNN, CNN Money, CodePen, CoinDesk, CoinMarketCap,
CoinTelegraph, DomainMarket, DomainTools, Dribbble, DuckDuckGo, DwelleBay,
ESPN, Etherscan, Etsy, Facebook, Forbes, Fox News, Giphy, Github, GoDaddy, Google,
Google Docs, Google Finance, Google Images, Google Maps, Google Play Music,
Hacked, HackerNews, Home Depot, Houzz, HugeDomains, Ikea, IMDB, Imgur, Intellicast,
International Business Times, Investopedia, iStockPhotos, iTunes Kohl's, Last.fm,
LinkedIn National Post,Netflix, Overstock,Pexels, Pinterest, Quora, Reddit, RottenTomatoes,
Sedo ,SeekingAlpha, Sky Sports ,Soundcloud, SourceForge, Sports Illustrated, Spotify,
Stack Exchange, Stack Overflow ,Staples Target, The Weather Network,Tumblr, Tunein,
Twitter, Wikipedia, Yahoo Finance, Yandex ,Yelp, YouTube, ZeroHedge.