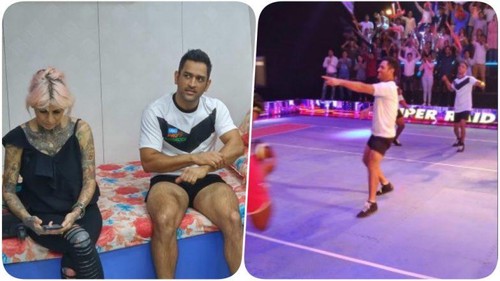 Hello Friends,
He has not been in the Indian squad for the forthcoming T-20 series against Australia. At this moment, Mahendra Singh Dhoni has been resting from competitive international cricket. Who knew MS Dhoni that he would fall down on the court of the Kabaddi! It is also silently again. The media kept in the dark!
Earlier, in the 2015 Pro-Kabaddi final, Bollywood actress Alia Bhatta and Katrina Kaif sang the national anthem with the national anthem. But at this time Sachin Tendulkar came down to the court after playing the entire kabaddi in the city of Tendulkar. But not in a competitive match. He was seen playing a kabaddi for shooting an advertising campaign for Pro-Kabaddi broadcasting agency.
It was also revealed that on Sunday, Dhoni came to the Sardar Vallabhbhai Patel Stadium in the presence of Bollywood's famous "hairdresser" Swapna Bhavnani on the eve of his birthday. Dhoni and Swapna went to the stadium and walked into the dressing room. After that, the director of the advertising film enters the room. He explained to Dhoni how to play in front of the camera Kabadi. Dhoni's team-mates and opponents were already prepared in the court. So, it was not difficult to recover the whole thing quickly.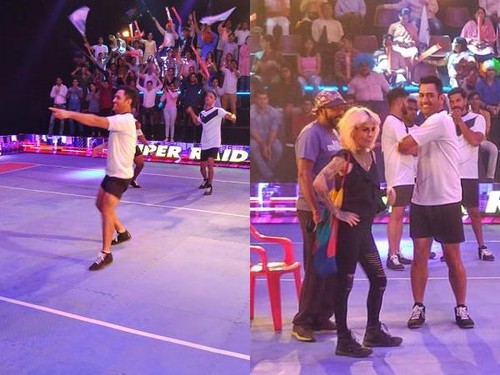 The organizers' privacy about the shooting was such that the players of the Bengal Warriors and Patna Pirates team practising at the stadium had not even been given the information before. After the two teams left the stadium, Dhoni arrived at the stadium.
After understanding everything from the manager, Dhoni came to the court. Swapna was with him there too After this, the shooting of the Mahi Kabaddi match in front of the camera was started. The former captain of India's World Cup winner, who came here several times to 'Red'. Even after obtaining points, professional cabiders have been seen handing their hand to the gallery as they did with the players, stadium security guards said. This shooting episode lasted for one and a half hours. But it was known that Dhoni also went to the vanity van and took rest. After kabaddi shooting, he has been seen to say something in front of the camera. Dhoni left the stadium at four o'clock in the afternoon. He's a great fit at 37 years. So it is not surprising to see him perform something strange in the advertisement of the Kabadi.
None of the stars in Mumbai were present in the Pro-Kabaddi League on Wednesday. But the hard-hitting battles are the first match in this day. Although it was late at the start, Haryana striker gave a good start to the match with a throwback to Tamil Thalwash. Results 32 to 32 of the match.
Thanks for reading my blog and if you have any opinion about this post, then write in the comment box, please.