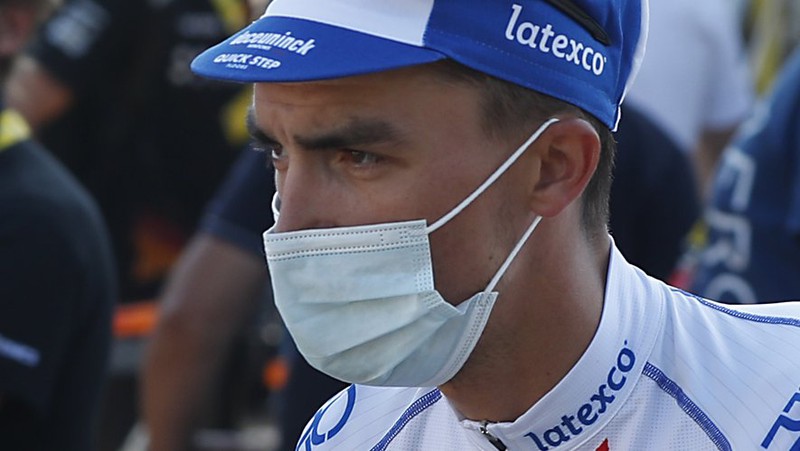 Thunderclap on the Tour route. Julian Alaphilippe is no longer yellow jersey. He was sanctioned by 20 seconds for a prohibited refueling. The fifth stage of the Tour between Gap and Privas was won by the Belgian Wout van Aert (Jumbo-Visma).
Rebound on the Tour de France this Wednesday evening: Julian Alaphilippe lost his yellow jersey! The Frenchman was penalized by the jury of commissioners and received a penalty which made him lose the leader's jersey. He is demoted to 16th place in the general classification at 16 "." It's an official decision of the jury, so I can't do anything about it, "reacted the rider on France 2." If it's like that, not worry. Tomorrow I'm going to get up and we don't talk about it any more ".
The marshals inflicted a 20 second penalty on him for unauthorized refueling at the end of the stage between Gap and Privas. Julian Alaphilippe was penalized for having received a bottle in the last kilometers. This bottle was provided to him by a member of the Deceuninck team 17 km from the finish. Several followers present on the race thought they recognized Franck Alaphilippe, the cousin and trainer of the French rider, on the side of the road.
"It's a shame to lose the yellow jersey like that. We knew there was the 20 kilometer rule. But today to be honest, the circumstances were special (...) It is the only place that we found to give a can ", tried to explain his sporting director Tom Steels.
He broke the rules
However, the regulations of the Tour de France are quite clear and strictly regulate the supply of riders.
"Drinking supplies from the organization's supply motorcycles are authorized for the escaped rider (s) when the sports director's car is not present at the front of the race. are carried out according to the kilometric rules provided for by the UCI regulations. They can be carried out in bags or in cans. The rules for these refueling are as follows: in general, permanent refueling is authorized from sign located near the 30th kilometer and up to the sign announcing the end of refueling 20 kilometers from the finish.The College of Stewards may, in agreement with the management of the event, modify these conditions during the stage according to the climate conditions. "