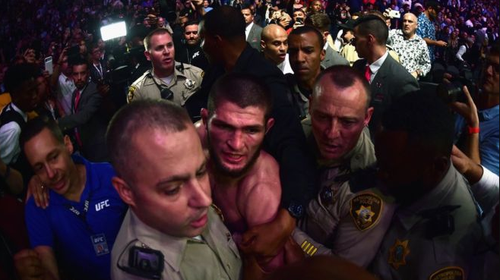 His house is there, which is called Europe's most dangerous place. He comes from Dagestan, a Muslim-dominated hill state of Russia. And to this day no one has ever found him green.
It is very important to say the same about the 30-year-old Muslim boy Khabib Noor, who defeated Mixed Martial Arts world champion Connor McGregor.
In a decade-long Mixed Martial Arts career, no player has seen the courage to beat Khobib Nour.
In Los Angeles of America, Khabib Noor defeated Connor in the fourth round of the match ... It was a fine specimen of mixed martial arts.
Along with Khobib Nur, the story below is also a popular match between Khabib and Connor recently.
Because that match easily won, but whatever happened after that, Khabib could question the future of Noor.
Let's understand that how the badbybi miked martial arts emerged as the world's largest name
With the capture of this title, he has become the first Muslim player to win the UFC title.
It was like adding a new chapter in the history of mixed martial arts
Prejudice between the Khabib and the McGregor has continued.
McGregor claims that his family, his blood and his family struggled with the British and even King James had restricted his family's name to 100 years.
They also say that I know that he comes from Dagestan, where people learn to wear pahlawani since childhood. But I know the drawbacks of the game
Seeing the talk of McGregor at the press conference, he looked at the table trying to show the weakness by placing his feet in the raging posture.
At the same time, the answer to Khabib comes in peace and with a lot of young people. They talk about their father, talk about their country, and even compliment McGregor.
On the issue of winning matches, Khabib says that you come to play for money but I do not play for you like money but play for my heritage.
Khabib says that McGregor talks about fighting against the British but does not speak his language too.
Khabbib coming from Russia's Dagestan area belongs to the Awar race.
Khabib, son of an honorable military officer, started training Pahlvani from his father at the age of eight.
Khobib did not take the training of his father, Abdul Mannap only for Pahlavi, but he also trained in judo and sambo (in the 1920s, the Soviet Red Army had developed a special mode of mixed martial arts).
The typical feature of Sambo is that it includes all the other handmade tricks of martial arts that do not even allow the opponent to think.
It is also said that Khobi Nur used to wrestle with a real bear in his childhood.
However, while learning Judo and Sambo, he did not decide to pursue a career in martial arts.
But when his father started the gym on the ground floor of his house, he started taking serious training in martial arts.
McGregor tries to humiliate him as his fanboy. But Khabbib answers in such a way that McGregor used to be a very good man some time ago.
In response to this he talks about his success with simplicity.
If you look at Khobiib's records, it is known that he is the record holder of Mixed Martial Arts's record of being the most invincible ten years of invincible years.
Khabib played his first match in September 2008 and won only four matches within a month.
By January 2012, they participated in UFC's competition and defeated Kamal Shaloras in the third round.
But they started to be taken seriously since the year 2013 when they were surprised by their game in two consecutive matches.
The record for the maximum brilliance in a match
In the month of May, Khabbib made Abell Trujillo a UFC record by knocking 21 times in Single Fight.
When UFC chairman Dana White saw Khabbib continuously flipping the American player Pet Haley, she was forced to say that this boy is very great and we will probably see history changing with it.
But Khabib did not start playing in the UFC Lightweight Championship until April 2018. But in April they won the title of UFC 223.
After this, on October 6, when Connor defeated McGregor in the fourth round of the match, his victory was celebrated on the streets of Dagestan.
But apologizing for his mistake after the match, Khabbib said that I know that you will praise me but I want to apologize and this is not the best aspect of my personality.
Khabib has blamed McGregor for wrongdoing about his religion, country and father before the match for his reaction.
Khabbib can be banned for some time, but Dana White has said that even after the ban, his title will not be sidelined.
But Khabib's father, Abdul Mannap, said after the reaction of Khabib that he would be punished by the UFC's ban for his indiscipline.