Hello! Friends,
Today, I was going through my twitter handle and I sighted a competition known as Ultimate Fighting Championship. It was horrible and I tried to check out the competition with the caption:
What a WAR! 👊Vicente Luque and Mike Perry are leaving it ALL in the Octagon at #UFCUruguay – how'd you score it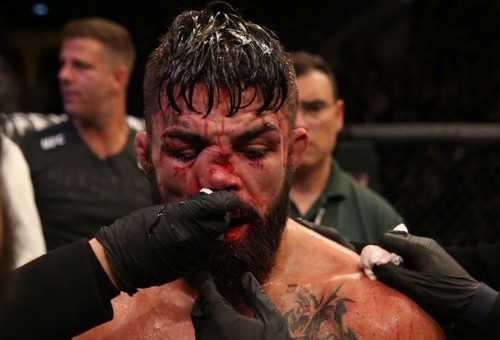 UFC which is Ultimate Fighting Championship is a competition known to an American promotional company in Las Vegas and it is part of its promotion on their roster to feature highest rank fighters. The first encounter took place in Denver, Colorado far back 1993. This competition has grown to be popular globally to become a multi-billion-dollar enterprise.
The Final of the competition this year was between Vicente Luque and Mike Perry. Vicente Luque is a 27-year American-born professional fighter but he's a Brazilian and he wins 9 by knockout. On the other hand, Michael Noseph Perry is a former professional boxer and now a professional mixed martial artist. He is also 27-years with 1 win by knockout.
It was UFC Uruguay co-main event and the fight between Luque and Mike started but was not ended well. As the fight continues, Luque injury Perry as he jumped knee in the third round which caught Perry in the face and shattered his nose. The damage was much yet Perry continues the fight and ended it. He was praised for his strength and boldness to continue which made them gave both the fighter $50,000 (£41,500). This is a record-breaking competition and this injury will forever be the worst ever injury in Ultimate Fighting Championship. Vicente Luque won the fight and left Perry with an injury he will never forget in his life and this can also be a permanent rearranged part of his face.
Check out the video of the fight below and rate the game in the comment section!