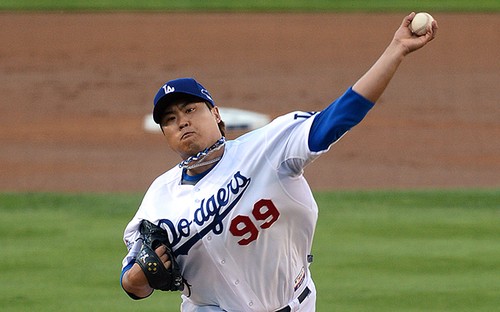 Ryu Hyun-jin who declared 'one more year' in the Los Angeles Dodgers, is the key player to keep the Dodgers' rotation solid for next season.
NBC headquarters has announced that it will release the NBC ' The National League West is the year that the Los Angeles Dodgers, Colorado, and Arizona fought in a fierce battle for the top of the globe. If San Francisco, a prestigious tradition, succeeds in rebounding, it is anticipated that a throbbing will literally happen next year.
Each team also has a busy offseason. "The NL West is at the center of the hot stove league on Sunday," NBC reported. In fact, local media reported that Arizona is talking to Minnesota about Paul Gold Schmidt, and the Los Angeles Dodgers are also discussing a deal with Cleveland to get a starting pitcher. San Diego, the weakest player, is also actively working on the rumor that it is communicating with Seattle.
The NBC drafted the rotation for the Dodgers as the most likely reason to be "the most likely (leading) candidate of the next season." NBC said Clayton Kershaw and Walker Buller's one-punch punch would be candidates for Cy Young, as well as the depth of the rotation. NBC pointed out the decisive factor in the depth, "especially when Ryu Hyun Jin received the qualifying offer."
Ryu Hyun-jin, who had an impressive season apart from last year's injuries, accepted the Dodgers' qualifying offer. Next year, he gets $ 17.9 million and plays for the Dodgers for another year. Ryu Hyun-jin is good at scoring a good performance by next year, and then going to the FA market for a long-term contract. Anyway, the Dodgers have been able to keep their starter power without leaving Kershaw and Ryu Hyun-jin.
In addition to Kershaw, Buller and Ryu Hyun-jin, the Dodgers are full of starter resources, including Maeda Genta, Ross Strippling, Rich Hill and Julio Glassas. It is not unreasonable for the Dodgers, who have a base of long term races, to be the strongest player in the Western region. Ryu Hyun-jin's residual adds to that strength.
Meanwhile, NBC said, "Yasmani Grandal has rejected this (qualifying offer) and the Dodgers are trying to reinforce the catcher. In addition, Kenji Jansen's heart surgery has increased the need for bullpen reinforcement recently, "said the Dodgers.