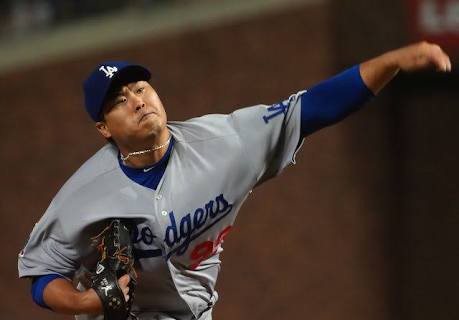 The Los Angeles Dodgers came from behind to beat the Milwaukee Brewers in the eighth inning thanks to their comeback at Milwaukee Miller Park in Wisconsin.
one win and one loss in away games.Jus is looking to advance to the World Series in Game 3 and 5 that will be held at home starting from the 16th.
Ryu had nothing to do with his victory after scoring six hits in 41⁄3 innings, four strikeouts, one homerun and two runs in the Musudo. In particular, Ryu had three hits until the fourth inning, but he played without any difficulties in pitching.
The problem was the fifth inning. Ryu threw a 142 kilometer cut to Orlando Arshia and hit a solo home run. Afterwards, he threw a fastball to pitcher Wade Miley. I got a hit. After that, the ball was shaken rapidly. Gujong, who was hit by Lorenzo Kane, also had a 140.5-kilometer cut. Some pointed out that the ball-matching that throws too many cutters was a loser.
After the game, there was nothing special about the fifth round of ball-matching. I went to the analysis table and got hit by a few shots. "There is nothing other than that that that has changed." The pitcher threw the ball based on a weak analysis on the cutter, but the middle pitcher was hit by a real shot.
When he pointed out that he used a lot of five cutters and made a lot of hits, Ryu said, "If I hadn't thrown the ball, I wouldn't have said this. It's a concluding story. "I think we should concentrate more on the next game and throw it harder." He argued that it was more of a real fight than a cutter.
Prior to each game, Ryu and Rick Honeycuts are closely analyzing the opposing batters. He has detailed data on which batter is weak and which type of hit he got in the last match. If he gets hit during a game, he goes to the analysis room, checks the video clips of all batters on his computer, and then jumps again. This means Ryu is studying more than expected and dealing with batters.
Although he failed to become a winning pitcher, Ryu saved his mind due to his team's victory. If the championship series is prolonged, there is a good chance that Ryu will play again in Game 6 to 7. Would Ryu show a different face if he were to play for the Miller Park mound again?