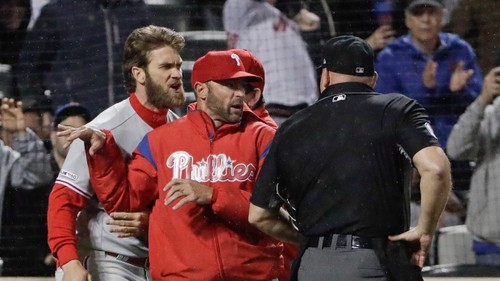 Fair Warning: This is not going to be a pretty post. There will be anger, ranting and cursing. Much like there was in my living room when I watched the Phillies all season long. If you are offended by passionate fandom expressed by colorful words I suggest you leave now. I won't be offended. If you give this post an upvote before you leave I'll be even less offended. On the other hand if you get a certain satisfaction from reading about someone's soul being crushed over the course of a 162 game season, then by all means continue reading.
---
I can't believe it happened to me. You would think 40+ years of rooting for the losingest sports franchise of all time would have taught me better. It didn't. I feel ashamed but I must come clean right now: one week into the 2019 season I started to fall for the hype. I thought the Phillies would make the playoffs.
What was I thinking? I somehow became blinded to the obvious flaws with this team. The weak starting rotation. The awful bullpen. The lack of fundamentals. The fact that Bryce Harper isn't Mike Trout. The idiot manager. The clueless front office.
How could I become so blind? I became a victim of circumstance. The Phillies kicked off 2019 by sweeping the Atlanta Braves. Haha, yes! This is how you win a division, you beat up your division rivals. Then they traveled to DC to face Max Scherzer and the Nationals. Dammit they beat Scherzer! He's the best pitcher in the National League.

Ok they dropped game five to Washington, but they returned to Philadelphia to take 2 out of 3 with the Twins. Including beating Minnesota's young ace Jose Berrios. What a start! Three series with legitimate playoff contenders (in fact all three made the postseason) and the Phillies start the season 6-2 while averaging nearly 9 runs a game. That's when it happened. I fell for the hype. I started to believe the Phillies were going to make the playoffs. I even proclaimed on the Lucksacks discord channel it was going to be a fun summer to be a Phillies fan. That was possibly the dumbest thing I have ever said.

They say confession is good for the soul. Well I still feel like shit. Anyway I got ahead of myself here. To see where this season truly went wrong, we have to start in the beginning, the 2018 offseason.
---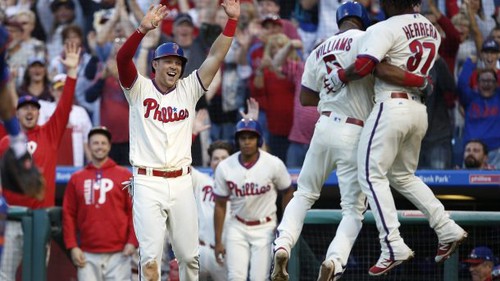 Surprisingly the Phillies were competitive in 2018 after several seasons of stinking up the National League. Aaron Nola blossomed into an ace pitcher, Rhys Hoskins became the middle of the order slugger he was projected to be and a young team exceeded expectations. At the end of August the Phillies were 72-62, serious wild card contenders and still having a shot at the division crown. Then came September.
The Phillies completely fell apart in September with a 8-20 record to finish 80-82. So disappointing. It was a true team effort: the pitching collapsed, the entire offense slumped and manager Gabe Kapler was his usual bonehead self. Yet there was hope for 2019. Outside of the September collapse the team took major strides forward. And principal owner John Middleton promised to spend "stupid money" to make the Phillies contenders again.
Team president Andy MacPhail and general manager Matt Klentak were charged with spending that stupid money correctly to improve the team. That's where the problems started. This team needed improvements all over the roster and the front office concentrated on hitting.
The Phillies traded for SS Jean Segura, a good move that cost little. They signed veteran outfielder Andrew McCutchen. Although his best years are behind him, he still has gas in the tank and he wasn't going to have to carry the load. They traded for catcher J.T. Realmuto, possibly the best catcher in baseball. And to finish things off they signed Bryce Harper to a "stupid money" contract. All told the offense was vastly improved, on paper at least.
The pitching staff on the other hand was neglected. The Phils had a sure thing in Aaron Nola, but four question marks behind him in the rotation. Jake Arrieta looked washed up (spoiler alert: he is) and the three youngsters behind him (Nick Pivetta, Vicente Velasquez, Zach Eflin) showed flashes of quality but at the same time showed flashes of shit. So heading into the season the Phillies had one #1 starter, two potential #4 starters and two #5's. That is not a winning combination. In fact it is a recipe for disaster.

Patrick Corbin would have been a good signing, but the Phils backed off and let him sign with Washington. Not only is Corbin a good pitcher, he's left-handed. Want to guess how many left-handed starters the Phillies have? None. Brilliant roster construction bozos. Corbin got 6 years and $140 million from Washington. The Phils could have made a better offer, especially for team willing to spend stupid money. Corbin went 14-7 with a 3.28 ERA and 238 K's for the Nationals. There is no reason he couldn't have done the same thing in Philly. In fact if he did he would have led the team in wins, ERA, and K's. Son of a bitch.

Corbin wasn't their only option. Charlie Morton and Dallas Keuchel were available as well. Both easily could have been signed, Morton got 2 years $30 million from Tampa Bay and Keuchel ending up signing a 1 year $13 million deal for Atlanta. Morton went 16-6 with 3.05 ERA and 240 K's (in the dangerous AL East, damn that's impressive) while Keuchel went 8-8 with a 3.75 ERA for the Braves. Once again Morton would have made the Phillies a much more dangerous team. Keuchel? Well he wasn't as dominant but still would have been the Phils second best pitcher. And like Corbin he wouldn't have been helping one of the Phils main rivals.
So the front office decided the starting staff was good enough, apparently hoping the youngsters would improve and somehow Jake Arrieta would morph into his 2015 form. Surely they would work on the bullpen, right? Outside of Seranthony Dominguez the bullpen wasn't very strong. Hector Neris and Adam Morgan were good at times, but neither was very consistent. Tommy Hunter and Pat Neshek couldn't stay healthy. Gabe Kapler loves to play around with the bullpen. Like a lunatic if you ask me. He needs arms, and good ones, to survive his over usage of the pen.
The Phils made one (!) significant bullpen signing, grabbing free agent Dave Robertson. It was a good signing. Robertson had been both durable and effective. But this team needed so much more with the health risks and questions marks that crowded in the pen.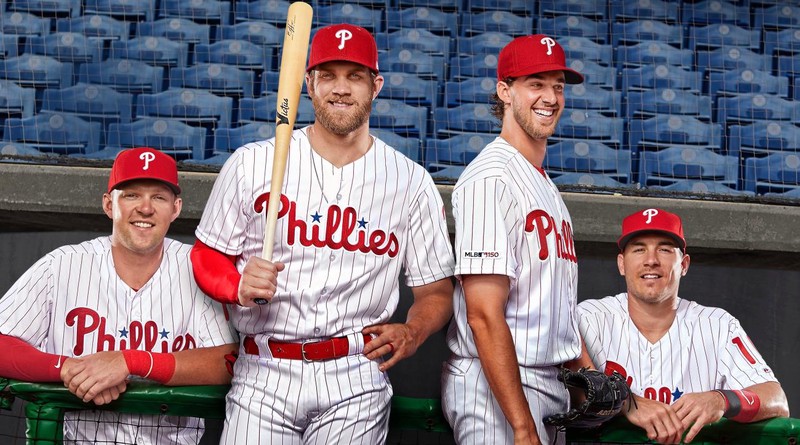 That is how the 2019 Phillies entered the season. A batting line-up that seemed to be potent, a starting staff that was full of question marks behind Aaron Nola and a bullpen that could be decent if healthy. Las Vegas tabbed the Phils as an 85 win team. To me personally that was the floor projection, anything less would be considered a disappointment. I thought the Phils had a legitimate shot at a wild card spot, possibly a division title if the young Braves faltered.
Then as you know after the first week I got excited and drank the Kool Aid. Big mistake. That first week ended up being the highlight of the season. The Phillies slipped into mediocrity soon after then bounced back between not too bad and putrid the rest of the year. A team that went 80-82 in 2018 spent over 400 million dollars in the offseason to finish 81-81 in 2019. The saddest part is they were lucky to finish .500, over the course of the season they were outscored by 20 runs. Mathematically speaking their record should have been 79-83. Barf.
Let's toss out some stats to show how average this team truly was this past season.

Overall record: 81-81
Extra innings games: 7-6
One run games: 20-20
Blowout games (win or loss by 5 or more runs): 27-25
They weren't awful in any of those stats, but they weren't good either. Considering the firepower the offense potentially contained those numbers are depressing.
So what went wrong? It started in the offseason and carried over for the rest of the year.

The front office gambled that starting staff would take a step forward this year so no new pieces were added. What happened? Nola showed flashes of his 2018 form, but also struggled early and late in the season. Zach Eflin didn't improve, but remained the same back of the rotation pitcher he has always been. The rest not only didn't improve but regressed. Arrieta somehow finished with a 8-8 record before injuries ended his year but he wasn't good. A 4.64 ERA and a 1.474 WHIP. Velasquez was 7-8, 4.91 ERA 1.389 WHIP. Pivetta simply bombed, 4-6, 5.38 ERA and 1.516 WHIP.
Those numbers were brutal. Velasquez and Pivetta lost their rotation spots. It wasn't surprising, those two have been underachieving their entire careers. Arrieta has been in a steep decline since his Cy Young of 2015 so his year wasn't surprising either. What is shocking is how the MacPhail and Klentak didn't foresee this and fortify the rotation. Instead they decided to wish in one hand and shit in the other. We all know which one filled up first.
The bullpen completely imploded. Tommy Hunter and Pat Neshek missed most of the season due to injury, just like 2018. Everyone not on the Phillies payroll saw that coming. Relying on them was just plain dumb. Dave Robertson was the big addition and he blew out his elbow after pitching six horrible innings. Can't fault the Phils for that one, it happens and he had been very durable for many years. Seranthony Dominguez was supposed to be the star of the bullpen. He wasn't very good (4.01 ERA, 1.459 WHIP) in the 24 innings he pitched before he injured his elbow and missed the rest of the year. Adam Morgan pitched decently for 29 innings, he was injured the rest of the time.

The Phils crossed their fingers and hoped the pitching staff would be good enough. Swing and a miss. A slew of bullpen injuries and poor years by the healthy guys ruined that plan.
Despite all the pitching woes, it was the offense that was supposed to carry this team. And they did, until June 3rd. On that fateful day Andrew McCutchen tore his ACL and was done for the year. The offense went into the tank soon after.
When the year began manager Gabe Kapler had a set line-up he rarely deviated from. That line-up featured Andrew McCutchen as the lead-off hitter. He played in 59 of the Phillies first 60 games with great numbers: .378 OBP, 45 runs, 10 HRs, 29 RBI, 43 walks. He was on a pace to score around 120 runs with 27 HRs and 115 walks.

When McCutchen went down, Kapler didn't know what to do with his line-up anymore. He began tinkering with terrible results. Over the next 102 games he used 15(!) different players in the lead-off spot. Including his middle of the order sluggers Harper and Hoskins for eight games apiece. Who in the hell moves their #3 and #4 hitters into the lead-off spot? Over the next 102 games, the fifteen combined lead-off hitters put up one ugly stat-line: .298 OBP, 64 runs, 18 HRs, 47 RBIs, 40 walks. Fugly stats.
Second baseman Cesar Hernandez was the only player to have some success hitting first after McCutchen went down. In 37 games he had a .322 OBP, 26 runs, 8 HRs, 22 RBI, 11 walks. Not great, but not terrible either. But Kapler would use him for awhile and then start messing around using other guys. Which was stupid since he was the only player who put up some numbers batting first.
Bryce Harper is overpaid and over-hyped, but he is still a very good player. His first year in Philadelphia was not a disappointment: .260 BA, .372 OBP, 98 runs, 35 HRs, 114 RBIs, 15 stolen bases, 99 walks. He delivered. So did McCutchen before his injury. J.T. Realmuto might be the best catcher in baseball. He threw out 47% of base stealers, did his best to manage a piss poor pitching staff, and hit well (.275 BA, 25 HRs, 83 RBIs). Jean Segura was banged up most of the season and had an off year for him. Still not bad.
Rhys Hoskins however killed this team in the second half. Check out the splits.
First Half: 89 games, .263 BA, 20 HRs, 59 RBIs, 68 walks
Second Half: 70 games, .180 BA, 9 HRs, 26 RBIs, 48 walks
I like Hoskins and watching him sink so low was soul crushing. It was like he forgot how to hit. And he didn't get any help from Gabe Kapler. Kapler kept him in the #4 spot mostly even though he fell apart. A smart manager would have dropped him in the order to relieve some pressure and put a guy who could get the job done in his crucial spot. Instead Kapler tried moving him up in the order, including 8 games in the lead-off spot. What a genius, trying to get the guy who fell apart even more at-bats.
A team built on hitting finished 7th in the National League in runs scored. They were lucky to do that. Despite finishing 11th in the National League in OBP (you know, guys getting on base) they left the third most runners on base. So they struggled to get guys on base and when they did get some baserunners they couldn't drive them in. Outside of Harper that is. Where the hell would have this team finished without him?
---
God damn this is a long post. Of course it was a long season. And I'm leaving out a ton of stuff. That's how bad this year was. Injuries played a part to be sure, but I watched the Yankees put half their team on the DL and still win. Good teams overcome injuries by having a back-up plan. I'm not sure the Phillies even had a plan outside of spending a lot of money and hoping for the best.
The season has been over for a week and Gabe Kapler still has a job. That statement alone makes me want to puke. He doesn't know how to play winning baseball. He doesn't move runners around, instead waiting for walks and homers. It's a strategy that fails when you rank 6th in the league in walks and 11th in home runs. For Phucks sake. I won't even go into how he handles a pitching staff or I might have to write another 3,000 words. It's bad. REAL bad.
I feel the main reason he still has a job is so he can take heat away from the guys hiding in the front office: Andy MacPhail and Matt Klentak. They ignored obvious holes in the pitching staff and had no plan for when guys who aren't good pitchers pitch poorly. The minor league system is low on talent. These guys think that throwing money at a few big names can solve all the teams problems. That formula has never worked and it never will. You have to build a team. The Phillies had Sean Rodriguez on the roster for most of the season. If you aren't familiar with him check out his career stats on baseball-reference.com. Better yet, don't. The fact that this bum was even able to stay on the roster shows how little thought was put into building a team by the front office.
I'll spend the offseason hoping owner John Middleton realizes he has a staff that has no clue how to win and cleans house. They all need to go. He needs people that know how to build a team, not just chase a few big dollar guys. I'm not going to hold my breath.
One final note. While the Phillies tend to piss me off more often than not, there is one guy who wears a Phillies uniform who has never let me down. He is the true MVP of the organization: