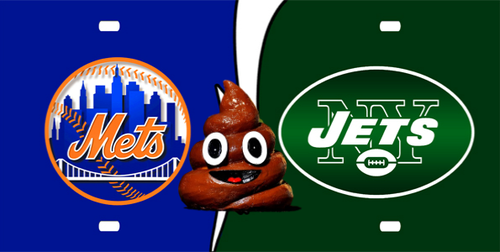 As someone who enjoys watching New York franchises fall flat on their face, I have to thank the New York Jets and the New York Mets for providing me a lot of entertainment lately. If I didn't know better I would think these two teams were run by the same group of clowns. I mean c'mon, they have all the resources you could hope for by competing in the world's largest media market and they still can't do anything right.
Let's start with the J-E-T-S Jets Jets Jets. I'm sure even Fireman Ed has to wonder why he chose this team to throw his passion behind.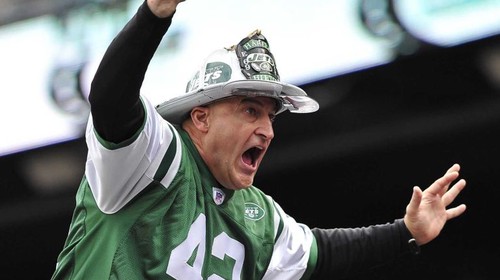 The Jets hired Todd Bowles in 2015 to lead a usually crappy Jets squad that shocked the NFL by going 10-6, though they still missed the playoffs. Fans were optimistic for a change and it looked like General Manager Mike Maccagnan had a foundation to build on.

He didn't. He decided to spend a 2nd round draft pick on QB Christian Hackenberg in 2016, about four rounds ahead of where any other team was thinking of taking a chance on him. I attend at least one Penn State game every year and watch most if not all of their other games on television. In other words I saw a lot of Christian Hackenberg ( I thank you in advance for your sympathy). Hackenberg had a strong arm, but regressed each year he was in college. The poor kid peaked in high school. The Jets took him anyway and after two season where he didn't play a single down released him.

None of Maccagnan's other moves panned out either and the Jets record fell to 5-11 in 2016 & 2017. He did draft QB Sam Darnold in 2018, but that was an obvious move for anybody. And the book is still out on Darnold. The Jets fell further to 4-12 last year so head coach Todd Bowles was shown the door. For reasons unknown, Maccagnan wasn't tossed out with him.

Jets owner Christopher Johnson decided to retain Maccagnan at the end of last season despite his inability to build a winning roster. Maccagnan was given the responsibility to hire a new head coach and tabbed Adam Gase. You know, the guy who flopped in Miami and failed to develop QB Ryan Tannehill. Good move Jets, at least Patriots fans think so.
Maccagnan followed that up handing RB Le'veon Bell a huge 50 million dollar contract to take the offensive pressure off of Darnold. He obviously saw how great Eli Manning performed for the Giants after Saquon Barkley was brought in to help him out. Good grief. Bell is a tremendous talent, but while he could help take a good squad to the next level, he can't drag a lousy team there by himself. Then word got out that new head coach Adam Gase thought it was a dumb move to spend that much money on a running back. I'm sure Bell was tickled pink upon hearing that news. Welcome to the Big Apple!

The Jets 2019 draft class wasn't deemed terrible, but the general consensus is the team failed to address their biggest deficiencies. In other words another lackluster draft by Maccagnan. So on May 15th the Jets finally decided to let him go and name Gase interim General Manager. I'm laughing my ass off here.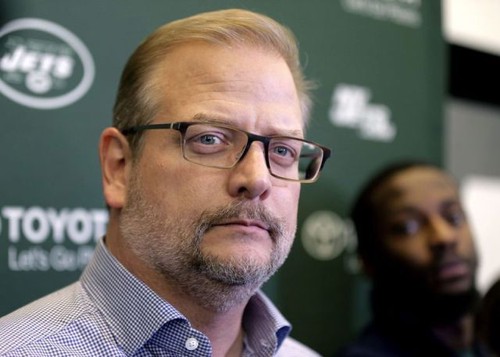 Let me get this straight. The Jets had a 24-40 record under Maccagnan's leadership yet Johnson still thought it was wise to put him in charge of hiring a new head coach, spending over 100 million dollars on free agents and running the team's 2019 draft. Then when all was said and done Maccagnan was fired. No wonder why the Jets remain one of the biggest laughingstocks in the NFL. Word is they want to pursue Peyton Manning to take over as General Manager. I don't think Manning took that many hits to the noggin during his career to accept.
And now onto the M-E-T-S Mets Mets Mets. Ok the fans don't actually use that cheer at Citi Field, but they might as well because this franchise is just as big of a mess as the Jets. I'm not going to lie, as a Phillies fan I love it.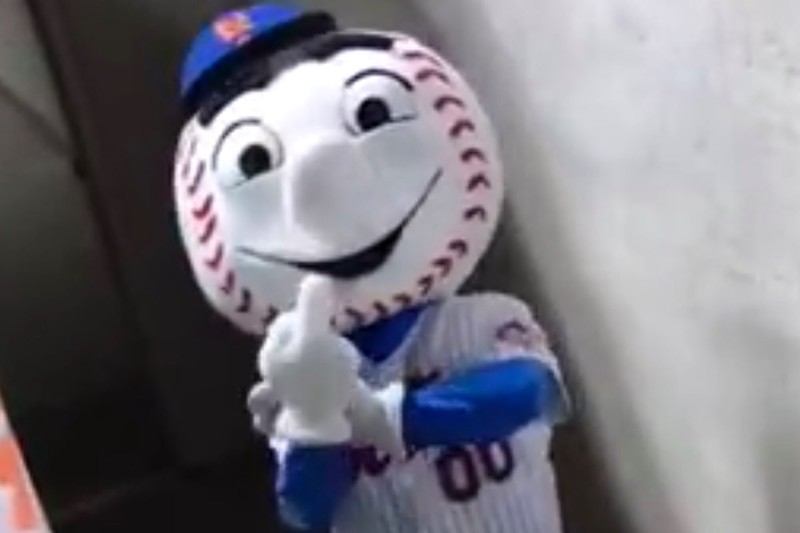 At the end of the 2018 baseball season, the Mets had a roster filled with young pitching talent who struggle to stay healthy and lot of hitters who aren't especially good at hitting. There's a winning combination. To combat this problem the Mets ownership hired former agent Brodie Van Wagenen to be their new General Manager. Sure, why not? Agents always tell owners they know what's best for their ballclubs, it's just a coincidence it usually involves handing out large contracts to their clients. Why should the fact that Van Wagenen had exactly zero experience working in a front office get in the way?
The Mets were already familiar with the work of Van Wagenen since he was the agent who negotiated Yoenis Cespedes a five year 137 million deal contract with the team. He also represented super prospect Tim Tebow (yes I'm being sarcastic) and super pitcher Jacob deGrom (I'm serious this time, he's really good).
Van Wagenen made a splash from the get go by sending the Mariners a pile of crap in exchange for 2nd baseman Robinson Cano and young relief ace Edwin Diaz. Getting Diaz was a good move, he's an excellent closer who's still early enough in his career to be working under cheap contracts.
Cano on the other hand is a 36 year old coming off of a year in which he was suspended for using PEDs. We all know how guys return to their former glory after being busted for PEDs right? Yes I'm looking right at you Ryan Braun. To make matters worse Cano is still owed 120 million for the next five years, since Wagenen couldn't convince the Mariners to pick up any part of his deal. Don't worry, Van Wagenen was very aware of Cano's contract, he was the agent who negotiated it!
While Diaz has pitched well, Cano has "rewarded" the Mets by hitting .250 with 3 HRs and 13 RBI through 43 games. Oh yeah, he was also just benched for failing to run out ground balls in two games against the Marlins over the weekend. Nice pick'up.
Van Wagenen made some other sharp moves to put the Mets over the top. He signed average at best 35 year old infielder Jed Lowrie to a two year 20 million dollar deal. And wouldn't you know it, he's another player who used to be represented by Van Wagenen. What a coincidence! Lowrie was so excited to play for his former agent he got injured and has yet to take the field this season. The Mets hope he'll be back by June. Why I'm not sure. Lowrie averages about 7 homers and 30 RBI's in half a season when he is feeling good.
Van Wagenen also signed catcher Wilson Ramos to a two year 19 million dollar deal. Ramos was never represented by Van Wagenen, so I'm not sure how this deal got made. I do know Ramos is hitting .233 with 2 HRs through 42 games. I also know deGrom, the Met's ace, can't pitch to him. deGrom has a 5.53 ERA when Ramos is catching. His ERA is 0.43 when somebody else is behind the plate. The way a catcher calls a game makes a difference with pitchers for sure.
What about Cespedes, the guy Van Wagenen had delivered to the Mets before he got the GM job? The oft injured outfielder has yet to play this year because of continuing problems with his heels and that problem got bigger yesterday with the announcement that Cespedes broke his ankle at home while he was "rehabbing".

One area where Van Wagenen has excelled as a general manager is blaming the manager for the team's problems. After getting swept by the biggest joke in baseball last weekend, the mighty Miami Marlins, Van Wagenen held a press conference saying Mets Manager Mickey Callaway isn't going to be fired. At least not today, who knows what the future will hold however. But Van Wagenen thinks the Mets will be better and he thinks Callaway will be a part of that success. What a vote of confidence. Who holds a press conference to say they are not firing the manager, but at the same time says anything is possible moving forward? I'll tell you who, an idiot who has no idea how perform their job and would rather shift the blame to someone else. That's who.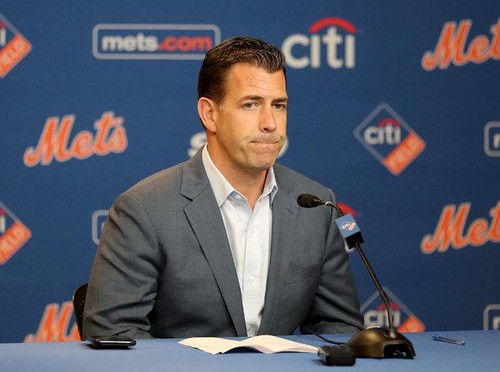 So here we are with two messed up teams in New York: Jets and Mets. Has a ring to it. Maybe the Nets are just as bad, I don't know since I don't follow the NBA anymore. And the old New York Sets of the World Team Tennis league disbanded long ago, so technically they are doing better than the Jets and Mets. At least they are no longer being laughed at.
The Jets and Mets share something else besides a hometown and similar names: terrible ownership. That's where the real problems start. When you have people with a lousy track record or zero experience run your franchise what can you expect aside from disaster. At the very least each ownership group can take solace that it brings me great joy to laugh at their latest shenanigans.