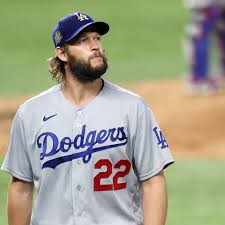 The Los Angeles Dodgers could not continue their winning streak.Clayton Kershaw, has lost two games in a row.
The Dodgers lost 4-6 to the Atlanta Braves in the 2021 MLB Atlanta Braves held at Truist Park in Atlanta, Georgia, USA on the 6th.Kershaw, a starter, collapsed in the third inning.
Kershaw held up well without conceding until the second inning, when the team led 1-0. However, in the bottom of the third inning he conceded an infield hit to first hitter heredia. After striking out Smith for a foul fly in right field and Morton, he gave Acuna a walk and allowed freeman a just-hit from 2-2 at first and second base.Then, he conceded a double to Albis on a two-run and allowed three runs.
The crisis continued. He conceded an infield hit to Riley, leading to a crisis at first and third base, and allowed Swanson to double in a timely double RBI, allowing five runs in only the third inning.
I did my best, but I am disappointed, Kershaw said. He pitched six innings and it was a positive but disappointing result.
Kershaw became the losing pitcher with 8 hits, 9 strikeouts, 1 walk and 5 runs in 6 innings. It is the fifth loss (7 wins) of the season.In the game against the San Francisco Giants on the 31st of last month, he lost for the second time in a row with five runs in six innings.