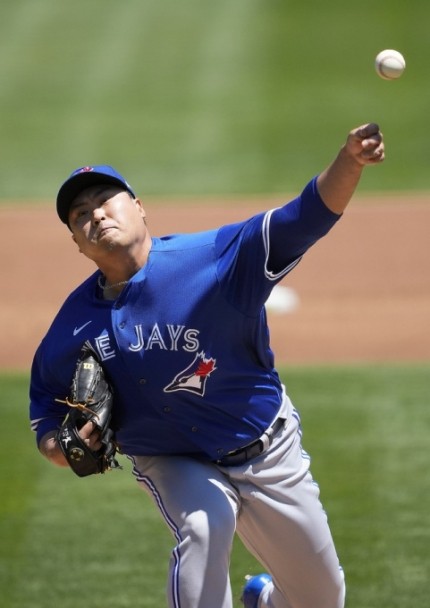 There are times when everyone is shaken for a while. No matter how much he is an ace, this cannot be avoided.Hyun-jin ryu of the Toronto Blue Jays of the American Major League is the same.In the home game against the Houston Astros on the 5th, Hyun-Jin Ryu got 7 hits, including two home runs, including a full-run homer, in 5.2 innings, and recorded his third loss (5 wins) of the season with 7 runs (6 earned runs).It was the most goals scored since moving to Toronto.
However, Ryu's strength is that he quickly shakes off his slump. In order to show his strengths,Hyun-Jin Ryu will start an away match against the Chicago White Sox to be held at the Guaranteed Late Field in Chicago, Illinois, USA on the 11th and challenge for the sixth win of the season.The ERA, which soared to 3.23 on this day's hot game,is also aiming to re-enter the two-point range.However,the White Sox is a tough team.The White Sox recorded a team OPS (on-base percentage + slugging percentage) of 0.811 against lefties this season with a team batting average of 0.272, the second highest among 30 MLB clubs. In particular, Nick Madrigal and yermin Mercedes both posted a batting average of 0.373 against lefties this season, ranking first and second in batting average against lefties in the American League. In addition,Jose Abreu hit a whopping five home runs while his batting average against lefties was only 0.234. For a left-handed pitcher, this is a terrifying strike.
As Hyun-jin ryu,who is his first appearance against the White Sox after his big league debut,the burden is bound to be high.Moreover, catcher Danny Jansen,who had worked with Hyun-jin Ryu,was put on the injured list and left the line.In addition to this,the White Sox pitcher who will play the starting match with Hyun-jin ryu is also a veteran left-handed Dallas Keuchel who won the Cy Young Award in 2015.It is fortunate that Keuchel is not as overwhelming as in the past as he has 4 wins and 1 loss and a 4.25 ERA in 12 games this season.
As Hyun-jin ryu enjoys overcoming the more difficulties he faces, attention is focused on whether he will be able to wash off the last slump and show the majesty of the ace again against the left-handed killer of fear.In particular,it is necessary to play hard because the possibility of being invited to the All-Star Game increases depending on the level of activity on the pitch.