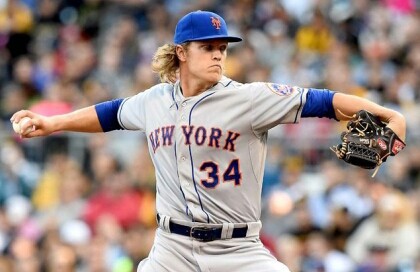 Los Angeles Angels general manager Perry Minasian said in an interview with local media such as MLB.com on the 18th,Many teams showed interest in him. It's a shame he chose us,he said.We bet on noah Syndergaard, and he bets on us.I think of it as a partnership,he said.The Angels signed a one-year,$21 million contract with free agent Pitcher Syndergaard on the 17th.Other than Shohei Ohtani, the Angels, who had never pitched more than 100 innings,moved quickly.$21 million is the highest salary in a season for an Angels pitcher.The Syndergaard Angels, who received a qualifying offer from his former team, the New York Mets, gave up the draft pick in the second round in return.

If it's good, Syndergaard's contract is nothing unusual,but the problem is his health.Syndergaard,who underwent elbow ligament surgery in March of last year, returned to the big leagues in September of this year after a year and a half of rehabilitation.He averaged 9.00 ERAs in two innings and two runs in two innings,one inning in two games.Next year is the full-fledged comeback season after surgery.Uncertainty is great,but the Angels boldly waged the game.
It is true that it is a risky contract.But he is grateful to the owner of Art Moreno for believing and supporting him to be able to gamble.The physical examination went well, and Syndergaard seems to be in good shape.He is a pitcher you can trust in big games.You can tell by looking at his postseason performance.
From Los Angeles to New York to catch Syndergaard,who came to the free agent market after refusing the New York Mets one-year, $18.4 million qualifying offer. He sat down to eat for three hours and confirmed the strong will of the Syndergaard.Syndergaard didn't come to our team to lose,said perry Minasian.I want to win more than any other player I've mentioned, and I have a strong competitive spirit.He is the kind of person we were looking for.He is a huge power boost for the team.When healthy, Syndergaard is one of the best pitchers. He really reinforced the starting lineup, he said confidently.
Syndergaard, who debuted with the Mets in 2015, is a right-handed fireballer who threw a high-speed ball up to 102.2 miles (164.4 km).He was nicknamed 'Thor' because the way he throws a ball with his long golden hair fluttering resembles one of the main characters of the movie Avengers.In 121 games in his six-season career, he averaged 47-31 and a 3.32 ERA and 777 strikeouts.
His best season was in 2016, when he was in his second year. That year, he pitched 183⅔ innings in 31 games and played 14-9 with a 2.60 ERA and 218 strikeouts.Syndergaard,who achieved double-digit wins for two consecutive years in 2018-2019, underwent elbow ligament ligation surgery in March of last year and entered rehabilitation.His career postseason record was strong in the big games,with an ERA of 2.42 in five games, two wins, one loss and one hold.I wonder if the Angels synth gamble,which has failed in fall baseball for seven consecutive years, will work.