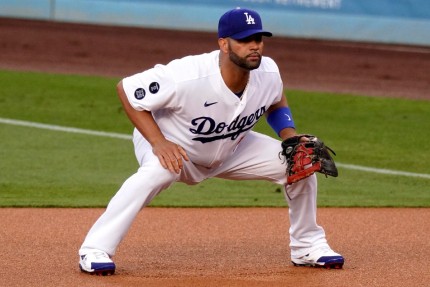 Pujols Saying Goodbye to Dominican Baseball, showing his Dominican Winter League performances and prospects for the future.

Pujols of Leones del Esco Rido, officially ended his first Dominican Winter League participation after the match against Higantes del Shibao on that day.In 16 games, he had a batting average of 0.237 (14 hits in 59), one home run, six RBIs, four walks, nine strikeouts, an on-base percentage of 0.286, a slugging percentage of 0.322, and an OPS of 0.608. Not a satisfactory grade.
This winter league for Pujols may not have been the best time of his baseball career, but he has had a distinct influence on fans and younger players through the media.He said he wanted to continue playing as a free agent.He added,Whether Pujols will achieve his goal will have to wait until the conflict between the major league and the players union is over.Low-end FAs like Pujols hope that labor-management negotiations to come up with a new collective agreement will resume as soon as possible.
Pujols continued his playing career this year, moving from the Los Angeles Angels to the Los Angeles Dodgers.He became a free agent after the season after batting 2-1,17 homers and 50 RBIs in 109 games.There have been speculations that he will retire in terms of his skills or age, but he is burning his will to play.
At the Leones del Escorido signing ceremony, Pujols said,I always said I would retire when the time came.Now is not the time.I don't want to stay at home next year.I can still play.made it clear Participating in the Dominican Winter League, which had been neglected for a while, was intended to show that he was still alive.
Pujols debuted with the St. Louis Cardinals in 2001 and was named Rookie of the Year, and has since won the MVP three times. He also enjoyed World Series wins in 2006 and 2011. Also, when he moved to the Los Angeles Angels in November 2011, he signed a free agent contract for 10 years and $240 million and sat on a money cushion. Without a single steroid scandal in his pristine personal life, he has completed a reservation for induction into the Hall of Fame.
His only goal left is to hit the 700-home run mark in the big leagues.He has hit 679 home runs so far this year, with 21 remaining.He was the fourth hitter to hit 700 home runs after Babe Ruth, Hank Aaron and Barry Bonds.This is Pujols only goal.