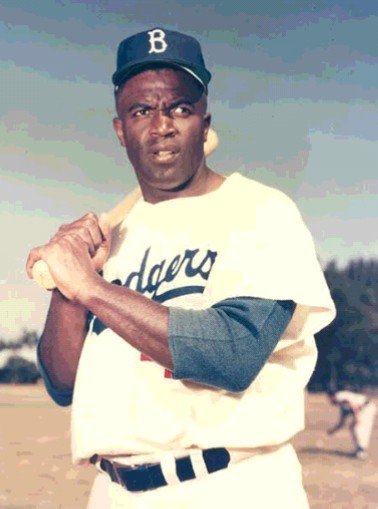 The Jackie Robinson day event, commemorating the first black player in the American professional baseball major league, was held in the morning of the 15th at all stadiums in the big leagues.
The major league secretariat has designated April 15 local time as Jackie Robinson Day since 2009, and that day, all the players from 30 clubs wear their uniform number 42 and play. Robinson is the first black player in the big leagues. Robinson made his big league debut on April 15, 1947, wearing the Brooklyn Dodgers now LA Dodgers uniform.
At the time, the big leagues were exclusively for whites, and blacks played their own league in the Negro League. After making his big league debut, Robinson heard rant from the white crowd, and other clubs refused to play against the Dodgers.
Robinson confronted racism and prejudice with his excellent skills. He was selected as the National League Rookie of the Year, and in 1949 he was honored as the No. 1 batting average (0.342) and the best player (MVP).
Robinson had a career batting average of 0.311, 1518 hits, 137 homers and 734 RBIs until 1956. Robinson became an opportunity to realize the seriousness of discrimination, such as race, in American society as well as sports. The major league secretariat set number 42 for the first time in 1997 as a permanent absence for the entire club.
San Diego Padres player Kim Ha-seong also changed to 42 and started as shortstop 6th batter in an away game against the Pittsburgh Pirates. On the first Jackie Robinson Day, Kim Ha-seong ended up with no hits in 5 at-bats.Kim Ha-sung's season batting average went down from 0.226 to 0.194 (36 at-bats and 7 hits).