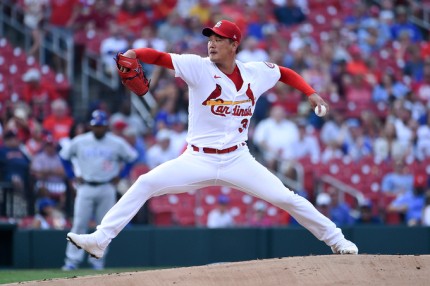 Kwang-hyun Kim of St. Louis Cardinals goes hunting for 7 wins in the season. On the 29th,he will start in the 2021 Major League away game against the Cleveland Indians at Cleveland Progressive Field in Ohios, USA. This is the first time they've faced Cleveland since making their big league debut last season.It's a complete upswing.Since the 1st against the Arizona Diamondbacks (5 innings and 1 run), they are running on a whopping 5 straight wins.It is expected that the number of consecutive wins can be increased to 6.
Kwang-hyun kim,who had a hot July.He started four games and marked a 0.72 ERA in 25 innings and four wins.During this period, he was ranked number one in the league in ERA and percentage on base per inning (WHIP · 0.76). It is completely different from the fact that they have not been able to accumulate wins in 10 consecutive games since the Cincinnati Reds match (5⅔ innings and one run in 5⅔ innings) on April 24. Locally, he is mentioned as a potential pitcher of the month candidate.If he wins, he will be the third Korean player after Chan-ho park (July 1998) and Hyun-jin ryu (May 2019, Lee Sang-sang, then with the Los Angeles Dodgers).
A notable competitor is Corbin Burnes of Milwaukee Brewers.In 4 games in July, he pitched 27⅓ innings, recording 3 wins and an undefeated ERA of 0.99. Kim Kwang-hyun leads in wins, ERA, and WHIP, but leads in innings.In addition, Wade Miley and Luis Castillo (over Cincinnati), Walker Buehler and Julio Urias (over Dodgers) are also aiming for a comeback. It is important to keep a good flow.
The game against Cleveland looks set to be the last gateway to Pitcher of the Month. Cleveland recorded 49 wins and 48 losses in 97 games, placing second in the American League (AL) Central Division behind the Chicago Cubs. Against the left-handed pitcher, he showed a rather weak appearance with a team batting average of 0.226.The starting match will be played by Jack Flesak.In three games played in July, he posted only a 4.86 ERA.He needs to be on the lookout for hits from Jose Ramirez and Cesar Hernandez in the batting line.They hit 20 homers and 17 homers, respectively.