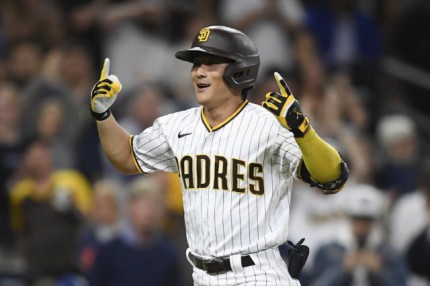 Should I laugh or cry?Ha-seong Kim of the San Diego Padres was selected as the 6th star to be awakened when traded.
On the 16th, according to CBS Sports in the United States selected 10 stars who will unleash their potential when the environment changes.Ha-seong kim was also ranked 6th.It is encouraging that the potential has been recognized.However, in any case, it is a story of a player who is not very important to the current team.
CBS Sports cited Tampa Bay Rays right-handed Tyler Glasnow as an example.
Glasnow was drafted by the Pittsburgh Pirates in 2011.He made his debut in Pittsburgh in 2016,but he did not perform well in the middle and starting positions.
Glasnow was traded to Tampa Bay in 2018. Glasnow had a 6-1 record with a 1.78 ERA in 2019. He pitched a 2.66 ERA in 2021 when he was 5-2. According to CBS Sports said,Glassnow is an example of a big change.His talent was evident.Tampa Bay guided him.The change in the environment saved his career.
CBS Sports said,There are very few players who make a new start.Not everyone benefits.Some people can't get over their circumstances when they change.The following are notable candidates for transformation and introduced 10 people.
Ha-seong Kim appeared after Miguel Andujar(New York Yankees), J.D. Davis (New York Mets), Mauricio Dubon (San Francisco Giants), Keston Hiura (Milwaukee Brewers), and Carter Kieboom (Washington Nationals).
CBS Sports said, 'Ha-seong Kim is defeated by shortstop Fernando Tatis Jr., third baseman Manny Machado and second baseman Jake Cronenworth. Using Ha-seong kim as the designated hitter is a waste of gloves,he diagnosed the reality.
He continued,If Tatis moves permanently to the outfield,Ha-seong kim can see shortstop.Ha-seong kim has a three-year, $20 million contract remaining. San Diego can now transfer Ha-Seong Kim and secure money while also paving the way for Ha-Seong Kim.I am sure that Ha-seong kim will welcome it.
He recommended a team with a guaranteed shortstop position in the near future.CBS Sports claims that the Los Angeles Angels, Chicago Cubs and Cincinnati Reds are a good teams.