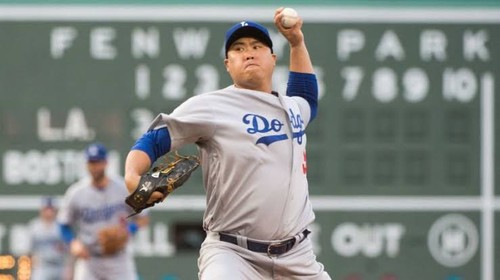 Ryu Hyun-jin, of the Los Angeles Dodgers, will go on a 12-game hunt against the Arizona Diamondbacks.Arizona right-hander Mike Leake,ahead of Ryu after making two changes to the starting pitcher to face him.
According to report of the official website of Major League Baseball (MLB), warned that Ryu Hyun-jin and Rick will start at Dodger Stadium in Los Angeles. Arizona initially struggled with Rick and Merrill Kelly, as a pitchers who will be on the mound on Ryu's day. He scored Rick as a starter the previous day, but changed it to Kelly earlier in the day, and returned to Rick just hours later. The reason for Arizona's change of rotation was only known as "internal circumstances."
For Ryu, the starting date had already been fixed. Dodgers manager Dave Roberts announced Ryu's return to the game against Arizona ahead of Ryu's bullpen session the previous day. Ryu was registered on the disabled list on Thursday due to a mild neck pain, but he has returned to the team within 10 days.
Ryu made 10 starts at Dodger Stadium at home this year, showing a pitch that was close to perfect with eight wins, no loss and an earned run average of 0.8. The Arizona batter is also an easy opponent for Ryu. Paul Goldschmidt, who was the same as Ryu's "enemy," moved from Arizona to the St. Louis Cardinals ahead of this season. Ryu had a 0.69 ERA in all two games against Arizona.
Ryu Hyun-jin, who failed to add more wins in two consecutive games after posting his 11th win of the season against the Miami Marlins on April 20, has had a golden opportunity to win 12 games. If Ryu wins against Arizona, he will have 12 wins in the season and 150 wins in the Korea-U.S. professional baseball league. Ryu won 98 games in South Korea and 51 in the Major League.
At first, Ryu's return drew attention as he faced Kelly, a junior in the KBO league in the Korean pro baseball league. Kelly was the first starter for the SK Wyverns in four seasons from 2015-2018, recording 48 wins, 32 losses and a 3.86 ERA in the KBO league. He led the SK Wyverns to last year's Korean Series championship.