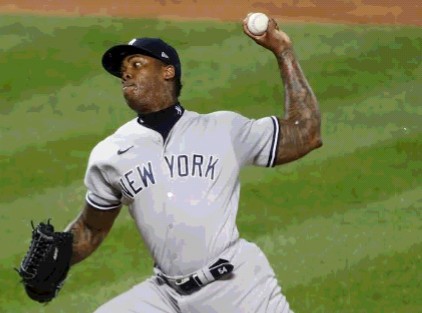 Fireballer Aroldis Chapman of New York Yankees is showing off his terrifying strikeout ability at the beginning of the 2021 season.
Chapman started off with a suspension of two games this season.He threw a 100.5 miles (161.7 km) four-seam fastball in the direction of the opponent's head in Tampa Bay last September.At that time,there was a harsh situation where a bench clearing would occur between the two teams, and the Major League Baseball Office suspended Chapman from the two matches for a threat ball.
Chapman,who digested the disciplinary action,has been in 9 games until the 2nd (hereinafter referred and is continuing the '0' average ERA of 5 saves 100% success on 5 save opportunities. His striking record was just 2 hits and 3 walks in 9 innings and a whopping 22 strikeouts.The strikeout per 9 innings is a whopping 22.00.As the season progresses, the number of strikeouts per inning will decrease, but it is a powerful pitching content.Chapman showed an overwhelming performance at the end of the ninth inning,which tied 3-3 in the match against Baltimore on the 30th.He defeated KKK with a 101.2 mile sinker, a 99.6 mile four seam and a 102.4 mile sinker against three batters.In this way, he throws 1 inning and finishes with 3K for 5 games.
In the match against Detroit on the 2nd, he climbed to the mound in the 9th inning, 6-4, and ended the game in a flash with 7 strikeouts with three balls and a ground ball with three strikeouts,recording the fifth save of the season.He struck out Willie Castro with a 101 mile sinker, Miguel Cabrera struck out with an 85.7 mile slider at second base, and Jonathan Schoop struck out with a 101 mile sinker.
Rather than hitting a hit against Chapman's ball, it seems difficult to even make an in-play ball to match the bat. On this day, Cabrera barely hit the ball by swinging the bat on a slider that digs into the body, like a cut swing.
Chapman's main weapon, a sinker of more than 100 miles, a four-seam, a splitter with a change ball, and a slider pitch, and the bats of batters dance in the air. According to the Baseball Servant, Chapman's sinker averages 100.8 miles (162.2 km) this season.He is the fastest sinker of major league pitchers.He has taken the best of 103.1 miles (165.9 km).The average imprisonment for a four-seam is 98.8 miles (159 km).
Chapman recorded 280 saves in his personal career against Cleveland on the 24th.Active players are third after Chicago Cubs' Craig Kimbrel (352 saves) and Los Angeles Dodgers' Kenley Jansen (317 saves).He is expected to set 300 save milestones this season.