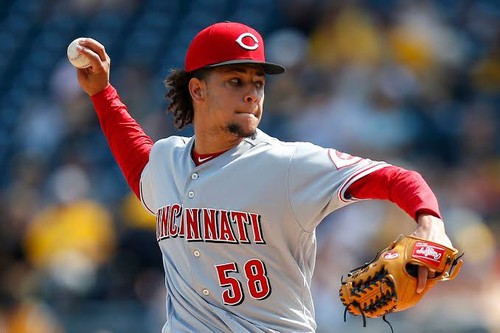 Luis Castillo, the Cincinnati Reds ace, won 11 games, striking out 13 in the most individual games. He was on par with Ryu Hyun-jin of the Los Angeles Dodgers in wins.
Castillo pitched for the 2019 Major League Baseball, Los Angeles Angels at the Great American Ballpark in Cincinnati, Ohio,and pitched three hits, one walk, 13 strikeouts and two runs in seven innings.
Castillo, who led Cincinnati to a 7-2 victory, had his 11th win of the season (four losses). Castillo, who won 11 games side by side with Ryu Hyun-jin and Brandon Woodruff of Milwaukee, has risen to a joint third place in the category. His ERA also remained in fourth place in the category with 2.63, while his strikeouts jumped to a joint fifth place with 164.
He struck out every inning from the first to the seventh inning. In particular, he struck out three consecutive batters in the seventh inning, which became his last inning. He threw a maximum of 98.1 miles (157.9 kilometers), 21 pitches, 28 forwards, and 51 changeups (51) and 19 sliders (19) at the center of fastballs.
In particular, Angels hitters have been swinging 18 times in the main weapon change-up. Eleven of 13 strikeouts were change ups. Luis in the third and Mike Trout in the sixth for two solo home runs, but he showed off his power by striking out 119 and striking out 13 in his career.
Thanks to Castillo's good pitching, Cincinnati also beat the Angels 7-4. Cincinnati, which won two straight games, maintained its fourth place in the National League Central with 53 wins and 58 losses. The Angels, mired in a five-game losing streak, finished fourth in the American League West with 56-58. Shohei, a pitch hitter in the top of the ninth inning, struck out swinging and fell to a .286 batting average this season.