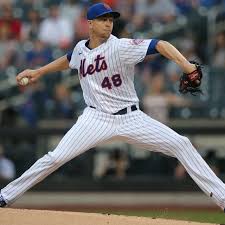 Stroman will buy you a Rolex watch if the conditions are met.Cleveland Guardians right-handed prospect Triston McKenzie wrote on his SNS on the 11th that he needed a Rolex watch.

Stroman replied,If you get 160 innings or more and an ERA of 3.70 or less this season,I'll buy you a Rolex.
Stroman is a major starting pitcher with a 3.63 ERA in 1,028⅓ innings in 179 major league games (173 starts). Last December, he hit the jackpot with the Chicago Cubs on a three-year, $71 million free agent contract.
For young players on the lowest salaries, a Rolex is an ultra-expensive luxury, but it doesn't seem like a high price to Stroman.The standard Stroman suggested may be easy for him,but it is a career high for MacKenzie.
Mackenzie debuted in 2020.He averaged 3.24 ERAs in 33⅓ innings in 8 games (6 starts), 2-1.In 2021, he marked a 4.95 ERA in 25 games (24 starts) and 120 innings 5-9.This is a goal that can only be achieved if the full-time starting rotation is digested as the 3rd.However, Mackenzie has great potential as a top prospect from the first round of the draft.
However, the suspicious bet did not stop there.Atlanta Braves right-handed prospect touki toussaint also participated.He added Stroman's comment and asked,Does this offer apply to everyone?Stroman said,I'll apply it to you too.Go and get your Rolex.
touki toussaint debuted in 2018 and has more experience than Mackenzie.But he went back and forth between the starting and the bullpen until 2020.He turned into a starting pitcher in 2021.His career best is 50 innings pitched last season. Breaking through 160 innings seems practically difficult.