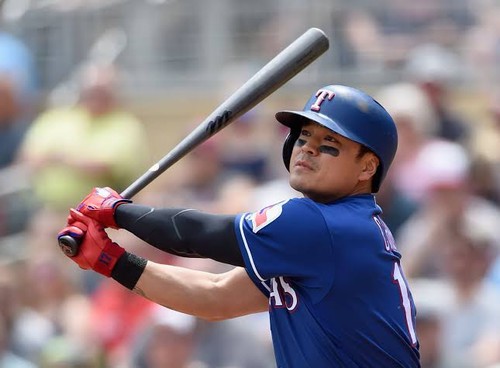 Choo Shin-soo of the Texas Rangers has hit seven straight games to reach a career high of 1,600 hits.
In an away game against the Oakland Athletics at the Coliseum in Oakland, California, on Wednesday,Choo started as a right fielder and first batter, recording two hits, one RBI and two runs scored in five at-bats.
Choo, who recorded a multi-hit game on the day, continued his hitting streak for seven consecutive games, and his batting average for the season was .284.
Choo who was the leadoff hitter in the top of the first inning, retired on a shortstop groundout against opposing starter Brett Anderson, and struck out in the top of the third, trailing 0-3.
The first hit was in the fifth inning. It was his 1,600th career hit. Choo, who entered his third at-bat in the top of the fifth inning with one out and a runner on first and second, hit Anderson's third pitch to create a bases-loaded chance. Choo then homered during Andrews' sacrifice fly to right field. It was a 4-3 turnaround.
In his fourth at-bat in the top of the sixth inning, leading 5-3, Choo hit the fifth pitch of pitcher Wei Chung wang, who changed his chances with one out and bases loaded, and added a run with an RBI single. Choo homered during a bases-loaded home run by his follow-up hitter Santana, and scored his second run of the day.
He finished the game 11-3 in the top of the eighth inning when he grounded out to second baseman brian schlitter, a change from his last at-bat.
Meanwhile, Texas won the game 11-3 thanks to a huge batting average, and Asdrubal Cabrera, who was facing a career-high 1,600 hits with Choo, made it to the milestone with three hits in four at-bats.