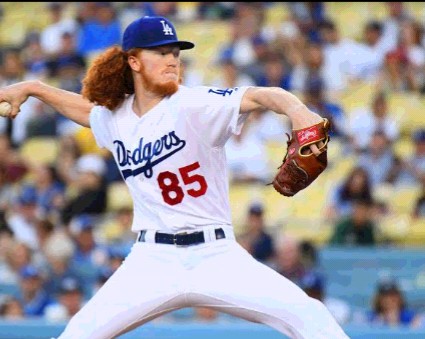 The Los Angeles Dodgers, who have the strongest starting line, completed the final puzzle with Dustin May.
MLB.com Dodgers reporter Juan Toribio told social media that dustin may will be the 5th starter for the Dodgers. David Price and Tony Gonsolin will come out as bullpen pitchers.
May, who debuted in 2019, is a starting agent that the Dodgers are nurturing with great care. He scored a good performance in 26 games in his second season with an average of 2.98 ERA with 26-14 losses and 5 holds. From last season, May joined the starting mound in earnest and started in 12 games, showing an impressive performance with an average ERA of 3-1 and 2.57. In particular, May's high-speed ball exceeding 100 miles is a powerful weapon.
The Dodgers have confirmed their five-man rotation this season. Trevor Bauer,Walker Buhler,Julio Urias,may will appear in turn, starting with Clayton Kershaw as the starting pitcher in the opening game. Price and Gonsolin, who were the fifth starters, are in the bullpen.
In the off-season, the Dodgers strengthened the mound by signing a three-year contract with Bauer, the biggest free agent pitcher, for $102 million. With abundant starting resources, the Dodgers now have room to put in bullpens with Price and Gonsolin, who can play an active part as a starter. The Dodgers, who lacked a left-handed rescue team in the roster, were able to fill the gap by turning Price into a bullpen. Price and gonsolin can be usefully used depending on the situation of the team.
Meanwhile,May will make his first appearance of the season in an away match against the Auckland Athletics on the 6th of next month. Let's pay attention to his performance, whether he can truly repay the team's trust this year.