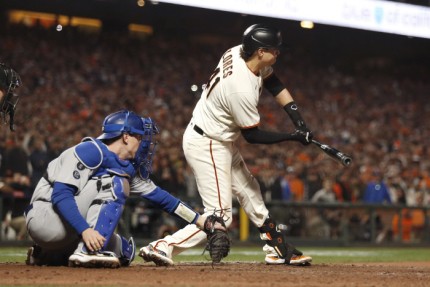 Game 5 of the National League Division Series between the Los Angeles Dodgers and the San Francisco Giants, held at Oracle Park on the 15th, was a memorable game, but it ended with a memorable moment and left a bitter aftertaste.
This is because the Dodgers lead 2-1 in the bottom of the ninth inning,due to the come to finish that occurred during San Francisco's two-off first base Wilmer Flores at bat.Max Scherzer's 3rd pitch slider, which came to the Dodgers finish at 0-2 on the ball count,fell low, and Flores stopped trying to swing.When Dodgers catcher Will Smith asked the first base ump to make a decision, referee Gabe Morales,who was the first base ump,ruled that the bat was spinning,and the game ended in a chaotic atmosphere.The Dodgers rushed to the mound to celebrate the victory while Flores raised his arms outstretched in protest.The slow screen shows Flores bat not spinning,but his check swing verdict is not subject to video review.
It was not known what would happen if the ball was declared in a fierce one-point match, but San Francisco had to accept defeat.The check swing decision is the most difficult decision in baseball,said Morales.You can't get the help of a camera that shines from different angles. The referee asked me if I had a check swing, and when I saw it at the time,I thought it was a check swing. San Francisco was unfairly judged, the Dodgers were lucky, but Dodgers fans are in the position that justice has been implemented.
The LA Times mentioned the Dodgers-San Francisco match on July 23.At that time,the Dodgers finished 3-2 in the ninth inning with two runs in the full count, and the Dodgers finisher Kenley Jansen threw the ball, and the rough swing stopped.On a slow screen,the tip of the bat went far beyond the home plate,but the first base sim at that time declared no swing.Rough picked a walk to score a tie-breaker RBI, and the game ended in a 5-3 comeback victory for San Francisco.
Considering San Francisco's 107 wins and the Dodgers 106 wins this season, one decision could have changed the first and second place positions.That means San Francisco might have had to play a wildcard game.
Check swing judgment is one of the gaps in baseball.Because there are no clear regulations,it is an area that cannot be solved even with video reading.
The Dodgers will play a best-of-seven championship series against Atlanta on the 17th.Boston and Houston will face off on the 16th in the American League.