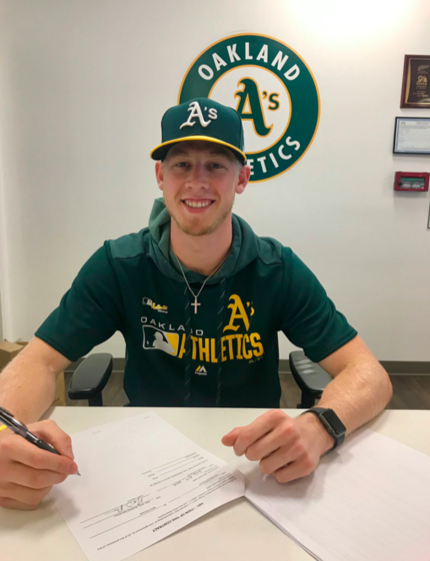 According to the major League baseball website reported the news of minor contract with the Oakland Athletics on Tuesday. His name is Nathan Patterson. Nothing is known except at the age of 23. Through his SNS, he played baseball since middle school, and it has only been known to the extent that he has prepared players for the past nine months.
Patterson's presence in Oakland had a chance. Patterson went to see the Colorado Rockies' home game at Coorsfield on April 16. At the Speed Fitch Challenge for fans, he continued to spray fastballs in the 90-mile range. The maximum restraint is 96 miles (155 km). According to report his brother Christian tweeted a 40-second video of the scene, saying, "The Major League should sign him."
In fact, the dream came true when Oakland signed with Patterson. Patterson is a right-hander with 185cm and 84kg physique. Since January, he has posted on Twitter or Instagram a picture of himself training at the Parkers Sports Performance in Nashville, Tenn. In June, he posted a video clip showing him playing in a real game for the first time in six years since middle school. It also reported that the maximum speed of arrest was 95 miles.
How can baseball not be romantic? Patterson said on Instagram, hurriedly writing Oakland President Billie Bean's words,I can't describe this feeling in words.I am grateful to all who have helped me so far. I've pursued my dreams since I was a child, and over the past nine months, my family has given me constant love and support," he said.
"I'm grateful to the Oakland team for giving me all the trainers, coaches, friends and opportunities I've given you," Patterson said. "It's not over yet. I'll concentrate more for the next chapter. Everything starts with your mindset. Make your dreams come true,he said, expressing his excitement.
According to report,MLB.com also said, 'Never give up on your dreams. It's cliche, but it's true. If you can throw a ball, don't give up your dream, cheering Patterson for a special challenge.