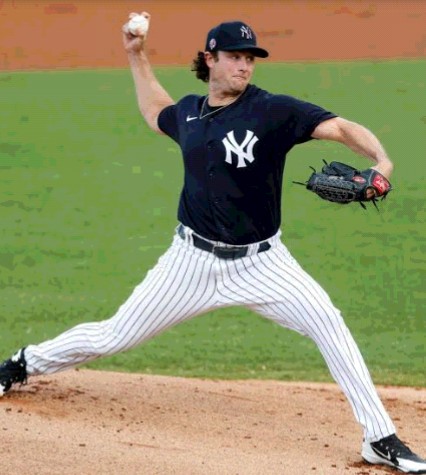 Gerrit cole,who once again met the Toronto Blue Jays after the opening of this season, became the winning pitcher this time.
Cole started out as a starting pitcher in the match against Toronto held at TD Ball Park on April 12th.Cole scored 8 strikeouts and 2 runs against Toronto on the 2nd.
He pitched somewhat uneasy in the first inning. Cole, who faced a crisis of first and second bases with a hit by Bo bichette and Vladimir Guerrero Jr. after the first company, gave up second and third bases in a big blow. Here he gave Randall Grizzly a ground ball for shortstop and allowed a point.
Afterwards, Cole faced the crisis of first and second base safely with walks and hits in the second inning. However, from this time on, Cole looked completely different. He struck out all three subsequent batters, and the call did not allow a single Toronto batter to on-base until the sixth inning.
Cole, who threw 98 balls up to the 6th inning, started the 7th inning and was replaced by left-hander Justin Wilson. Wilson, Darren O'Day, and Aroldis Chapman, who came up, defended the lead, and Cole became the winning pitcher. It is the second win of the season.
Cole scored 3 hits, 1 walk, 8 strikeouts, 1 run in 6 innings. He had an average ERA of 1.47 for the season. With a strong fastball of up to 99.5 miles and an average of 97.3 miles, he succeeded in overtaking the Toronto line in the second inning.
Meanwhile, the match was won by the Yankees 3-1 against Toronto. Kyle Higashioka, who made a battery with Cole that day, made 5 and 8 home runs and lightened Cole's shoulder.