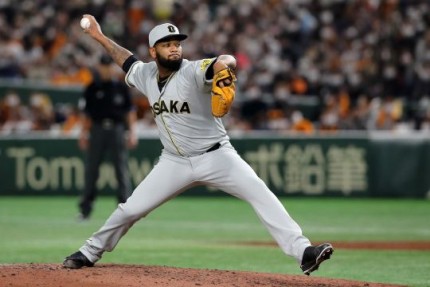 The Hanshin Tigers of Japanese professional baseball lost again.It was the worst Central League record in 43 years.Foreign players from the KBO League, Raul Alcantara and Mel Rojas Jr., also suffered poorly in tuta.
Hanshin lost 5-9 in the away match against the Yomiuri Giants of the Japanese professional baseball team at the Tokyo Dome on the 3rd.As they fell into a swamp of nine consecutive losses, they failed to win their first win again.
Hanshin's nine straight victories surpassed Yakult Swallows' eight straight losses (including one draw) in 1979, the most in the history of the Central League.If the Pacific League is included,it is the first time in 20 years since the Chiba Lotte Marines (11 consecutive losses) in 2002, the 9th consecutive loss is infamous.
Starting in the first inning, starting pitcher Joe Gunkel hit a full-base home run by Sho Nakata and conceded four runs.The batting line was blocked by Yuji Akahoshi from Yomiuri starter, and was blocked without a score until the 5th inning.In the 6th inning, Yoshio Itoi's two-run homer broke the silence and caught up 2-5, but the bullpen allowed 4 runs in the 7th and the flow was over.
Alcantara, a right-handed pitcher who went through the KBO League KT Wiz and Doosan Bears, made a relief appearance in the 7th inning, but collapsed with 3 hits, 2 walks, 2 strikeouts and 4 runs in 1 inning.He threw a 151km fast ball, but he got three hits in a row at 2nd, 1st and 2nd base with 2 walks as runners.His first appearance was against Hiroshima Toyo Carp on the 31st of last month, and he kept one inning and one hitless score, but that day he collapsed and the ERA soared to 18.00.
Rojas, who was born in KT and won the KBO League MVP in 2020, was also unable to use his strength.Rojas, who was missing from the starting lineup that day, came out as a pinch hitter in the ninth.With no runners behind 5-9, he played a 6-ball match with Yomiuri closing pitcher Thiago Vieira, but he pulled the slider and was out with a ground ball at first base.With 1 hit in 11 at-bats,rojas batting average for the season dropped to 9 pi and 1 li, and even 10 percent collapsed.