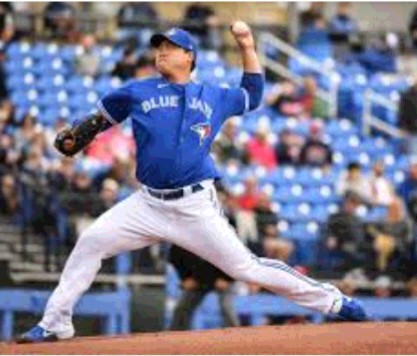 The Toronto Blue Jays ace Hyun-jin Ryu,took second place in the American League Cy Youngs poll last year. However, he is being evaluated a little bit by major league experts this year.
MLB.com, the major league homepage, surveyed 100 major league experts on the 31st (hereinafter referred to as and predicted the two major league MVPs and the main characters of Sai Young in 2021.Hyun-jin ryu was nominated for Cy Young in the American League, earning two votes, and tied for fourth place with Kenta Maeda.
First place was up gerrit Cole of New York Yankees. Cole won more than half the votes with 59 votes. The media said,'Cole has always been among the top 5 players with an average ERA of 2.71 over the past three seasons and 12.9 strikeouts per 9 innings, but he is still aiming for the first time in his career. The Yankees are waiting for their first Cy Young pitcher since Rogers Clemens in 2001.The voters gave Cole more than twice as many votes as Lucas Giolito in second place of Chicago White Sox, 25 votes. Last year's American League Cy Young Award winner it shane Bieber of Cleveland Indians, 9 votes) took third place.
MLB.com even nominated Hyun-jin ryu but Jim Borden, a former major league leader and columnist of the Athletic', excluded Hyun-jin Ryu from the nomination at all.
Borden predicted Giolito as the winner on the 29th, and explained that he will benefit from the best bullpen in the major leagues, a solid defense and an explosive Beast lineup. Last year, he was only 7th, and it is clear that he is attracting much attention this year as he was ranked 2nd in MLB.com experts' predictions, with Borden expected Cole as second and Beaver as third.
In fact,Hyun-jin ryu was not a popular player when selecting Cy Young's candidates every year. Throughout the season, he exceeded the expectations of experts and went to the final vote. In 2019, when he was in the Los Angeles Dodgers, he took second place in the National League video poll, and last year, after moving to the American League team, he took second place in the Sai video poll, proving his worth again.
Like last year, Toronto is evaluated that there are no reliable starting pitchers this year except for Hyun-jin ryu. So, expectations for the irreplaceable ace Hyun-jin Ryu are higher than in any year.
Hyun-jin ryu finished the final inspection with 11 hits (2 home runs) and 11 strikeouts and 4 runs in 10 innings, starting in 3 demonstration games. He also appeared in the blue-and-white battle and simulation games, focusing on increasing the number of pitches and innings to coincide with the opening. Will Hyun-jin Ryu be able to show the unchanged position from the last two seasons this year, overturning the expectations of major league experts.