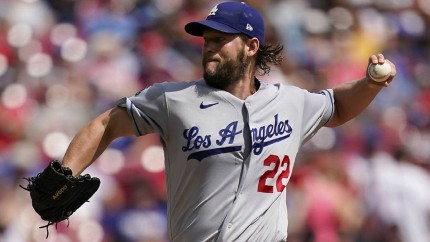 According to reporter on the 11th that The New York Mets were trying to sign Kevin Gausman and max Scherzer at the same time.

It is widely known that Gausman,who joined the Toronto Blue Jays was a target for the New York Mets, but this is the first local report that he nearly joined the Mets rotation in the form of a duo with max Scherzer.This means that the Mets are still pushing to strengthen their rotation. In this regard,Clayton Kershaw is being mentioned as the 3rd choice candidate for the Mets every day, drawing extraordinary attention.
According to reported on the 12th,In the end,Gausman signed a contract with Toronto,but the Mets succeeded in holding Scherzer in their arms.Scherzer has the potential to change the direction of the Mets club and clubhouse as a whole,he said.It is necessary to look at the alternatives remaining in the market. The top-class free agent selected by CBS Sports is left-handed Carlos Rodon. Rodon started in 24 games this season and threw 132⅔ innings to record 13-5 and a 2.37 ERA.He was an All-Star for the first time in his career,and also directed a no-hitter against the Cleveland Indians on April 15.He missed the rotation for a while due to a shoulder injury in August, but overall it was a good season.
CBS Sports said,Rodon is at risk due to shoulder issues, so it seems difficult for the Mets to bet. Jacob deGrom and Carlos Carrasco suffered elbow injuries, and Taijuan Walker collapsed after the All-Star break.
CBS Sports also mentioned Kershaw. Except for Rodon, great pitcher Clayton Kershaw can be signed, but he's 34 and has suffered from injuries recently,he said.However, the local atmosphere is that if it is a healthy Kershaw,the Mets are likely to actively attack.
Metsmerized,which specializes in Mets news,also said,After the lockout is over, there are still players that the Mets will be interested in the free agent market and Kershaw, Jack Greinke, Yusei Kikuchi, Danny Duffy,It is clear that there is a need for a starting pitcher who can pitch as a third starter, such as Drew Smiley.
As for Kershaw,his original team, the Los Angeles Dodgers and his hometown team,the Texas Rangers, are considered strong destinations.Although the possibility is low because he has no relationship with the Mets,if the Mets, who have two Cy Young pitchers such as Scherzer (3 innings) and DeGrom (2 innings),move toward Kershaw,this is also a move worth paying attention to Kershaw has won the Cy Young Award three times.