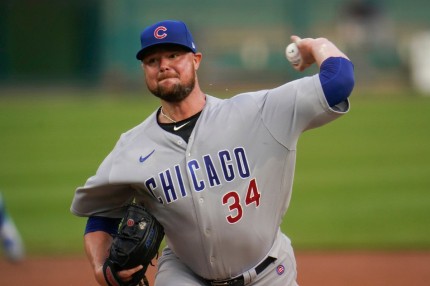 Another legend took off his uniform.Left-handed pitcher Jon Lester,after 200 wins, has announced his retirement. ESPN reported on the 12th that Jon Lester, who has won 200 victories while wearing three World Series championship rings,will retire after 16 years in the big leagues.
In an interview with ESPN, Lester said, Life goes that way.I thought it was getting harder and harder physically.The little things I went through last year played a big role in my performance.
Lester,who made his major league debut with the Boston Red Sox in 2006,played with the Oakland Athletics,the Chicago Cubs,and the Washington Nationals and St. Louis Cardinals last year, recording 7-6 and an ERA of 4.71.His career record is 200 wins and 117 losses in 452 games, an ERA of 3.66 and 2488 strikeouts. Although he's never been on a sci-fi video, he has recorded double-digit multipliers 12 times and is an All-Star four times.His career high came in 2016 when he was 19-5 with the Cubs, averaging a 2.44 ERA and 197 strikeouts.
He was particularly strong in autumn baseball.He has a 9-7, a 2.51 ERA in 26 postseason games,won the 2007 and 2013 World Series while he was in Boston, and also lifted the Cubs trophy in 2016.In the 2016 National League Championship Series, he appeared in two games against the Los Angeles Dodgers and allowed two runs in 13 innings to become the Series MVP.
I think I appreciate myself to some extent,Lester said.I don't want to be told not to do it anymore,said Lester.I want to take my uniform off myself.this,he explained.In other words,he did not discuss his retirement decision with anyone.
Lester was called the master of cutters. ESPN said:In their prime,Lester dominated the game with a messy cutter and an overpowering mound.It was his unique trademark to have his glove under his chin when signing autographs with the catcher.
Lester is the ninth left-handed pitcher to record 200 victories,a 60% win rate,and an ERA below 4.00.Six of the previous eight were inducted into the Hall of Fame, and CC Sabathia retired in 2019 and is not yet eligible for induction.