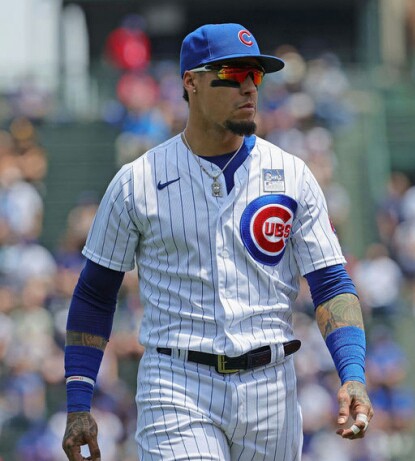 A player who has been playing for 8 years in the major leagues alone made a ridiculous mistake of forgetting an out and was eventually replaced. The unbelievable mistake was made by Chicago Cubs veteran shortstop Javier Baez.
Baez stepped on first base by selecting a fielder in the 4th inning attack against the Cleveland Indians at Wrigley Field in Chicago on the 22nd.Chris Bryant, who previously walked to base,was forced out at second base because Baez hit a ground ball in front of third baseman.
Baez looked a little odd from first base. Baez stayed on first base until Cleveland pitcher Aaron Siebelly threw the first pitch against the next hitter, Anthony Rizzo.It's common to lead to second base before starting pitching, but Baez didn't do that.It wasn't that the team was winning big.It was lagging 0-1,but this was nothing.Even though Rizzo hit a bouncing ball straight in front of left fielder Eddie Rosario,Baez ran towards second base.Bryant knew he was going to be out as soon as he hit it, so it was a very ordinary bat,but Baez continued to play.By the time Rosario caught the ball, he was already past second and on his way to third.Rosario of course thought that Baez had returned to first base,so he was trying to handle the ball as usual,but when he saw Baez going to third base, he hurriedly started relay play. The inning ended with a double play.
Baez trudged into the dugout the moment he was out,making a gesture as if the unthinkable had happened.After talking to manager David Ross in the dugout,Baez eventually failed to get into the field in the 5th inning.
In an interview after the match,Baez said, I was surprised to be replaced,but it was all my fault.He said,I acknowledge the manager's decision.There is no such thing as bad feelings.He continued,It's my fault.I forgot the out count,he said. We talked and had the same thought.I'll play again for the team tomorrow.
Ross explained,We didn't remove him to set an example for the other players against the team's flagship shortstop,but instead replaced a player who was distracted during the game is a great player in every way.
The Cubs eventually lost 4-0 to Cleveland.The Cubs have lost 6 of their last 8 games and are tied for the National League Central Division lead (40 wins and 33 losses) with the Milwaukee Brewers as of the 22nd. They have also scored less than three goals in nine games in a row.In the game against Cleveland on that day,it was a time to change the mood,such as recording an 8 at-bat without a hit in the scoring position.
Baez has a batting average of 0.226, on-base percentage of .264, slugging percentage of .460, and OPS of .724 this season,which are all below his career batting average of 0.261, on-base percentage of .301, slugging percentage of .472, and OPS of .773.