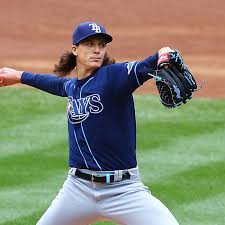 Ji-man choi is back and sprinted for four straight victories, but the Tampa Bay Rays are crying over an ace injury.
Tyler Glasnow started on the 15th against the Chicago White Sox at the Guaranteed Late Field in Chicago, Illinois, USA, but felt pain in his right elbow and was replaced 4 innings later. There were only 53 pitches.
Glasnow felt his elbow pulling after throwing the first ball against Andrew Vaughn in the second half of the fourth inning.He then threw three more balls to get Bone out to third baseman, and he hasn't been on the mound since.
After the game, Glasnow said,I barely finished the bottom of the fourth inning, and I was wondering if I could throw one more inning.I decided it was better not to pitch anymore.Glasnow is scheduled to undergo an overhaul the day after the match.He did not feel any serious pain, but his colon could be lengthened, depending on the results of the examination.We replaced Glasnow at just the right time, but we'll have to wait and see what coach Kevin Cash said.
Glasnow, who made his major league debut in 2016, was selected as an American League Cy Young nominee ahead of the season opening this year. His season record is 5-2, with a 2.66 ERA and he struck out 123 in 88 innings.He is second in the major leagues in strikeouts behind Shane Bieber (130 Cleveland Indians).
On the other hand, Tampa Bay beat the White Sox 5-2 in this game, running on a four-game winning streak. With a record of 43 wins and 24 losses, they firmly maintained their lead in the American League East Division.
Ji-man choi,who was on the injured list for knee management, returned on the same day and recorded two walks without a hit in two at-bats.