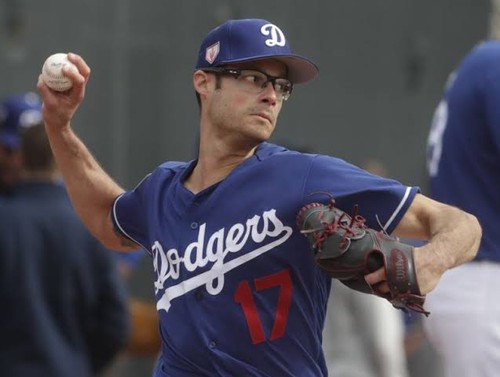 The Los Angeles dodgers,Was feeling better now," "The curve was fantastic,said catcher Russell Martin according to report.
The Los Angeles Dodgers missed the trade deadline without hiring a strong bullpen pitcher.We need to use 100 percent of our current players to make solid bullpen sessions.It's good to see Joe Kelly,who had been sluggish in the first half of the season, slowly recovering from his pitching in the postseason last year.
Kelly showed off his strength in a game against the St. Louis Cardinals at Dodger Stadium in Los Angeles.He took the mound in the eighth inning, trailing 0-1, and struck out Paul Goldschmidt,Marcel Ozuna and Paul Dejong.
Goldschmidt struck out with a 99-mile fastball and an 88-mile knuckle-kub for a home run in the front at-bat. Dejong struck out three with three knuckleburs. He threw 12 pitches and had eight knuckle curves.
Kelly's curve was incredibly good today,said catcher Russell Martin,who achieved the battery. According to the Statcast, Kelly's 88-mile curve recorded a rotation of 3405.
Kelly qualified for the FA last winter and signed a three-year, $25 million contract with the Dodgers.However, he made a three-run home run to his first batter in the game against Arizona and recorded a Blon save. From April to May, his ERA was in the eight-point range. It was 180 degrees different from the expectation that he hired him as a setup man. He was beset by criticism and jeers.
But as the season goes on, it's getting more and more stable.Kelly has changed since June. He is perfect with one earned run (5 runs) in eight games and nine innings in June, three earned runs in 10 games and nine innings in July, and five strikeouts in three games and 22⁄3 innings. (Four wins, three losses and an ERA of 4.85)
After the match, manager Dave Roberts said of Kelly,he is better now. I think I feel baseball. He struck out a good strikeout today, and it was a great game," he said. "We showed what we knew before. It's good to see you have a successful season in the future.
Kelly has eight earned runs and four earned runs in 202⁄3 innings and a 1.74 ERA in 21 games since June. Kelly should be the center of the bullpen in front of closer Kenley Jansen with Pedro Baez in the postseason.
As a member of the Boston Red Sox last year, Kelly showed stellar pitching in nine games (111⁄3 innings) with two wins, one loss and a two- In particular, he broke the Dodgers' dream of winning the World Series by winning five games (6 innings) with a one-game, two-hole ERA of 0.00. This fall, he has to repeat his appearance last year to win the Dodgers' first World Series in 31 years.