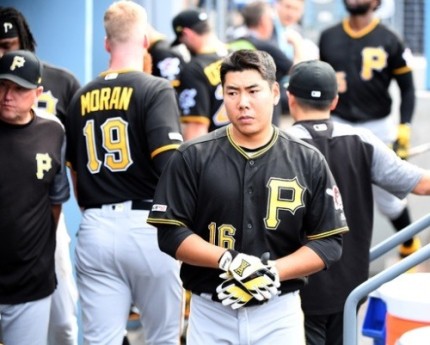 Following Kang jung-Oh, another Korean major leaguer is on the verge of being released.
According to report of the official website of the Major League, reported on Thursday that the Pittsburgh Pirates have assigned Kang a nomination. A designated player can move a team if there is an offer from another Major League club for a certain period of time. Kang's case will be given a grace period of one week. However, if the player does not receive an offer from another club, he will either accept a minor league run or earn a free agency status.
Kang's performance this season is disastrous. He played in 65 games, but only batted .169, OPS 0.617 and hit 10 homers and 24 RBIs. He hit 10 home runs to announce his strength, but his overall record, including batting average and on-base percentage, was disappointing. It seems unlikely that Pittsburgh and other major league clubs will show any more interest in Kang.
As a result, Kang's possible return to South Korea has been raised. Kang is considered the most successful model for a fielder who has gone through the KBO stage and entered the Major League. Kang has played a total of nine seasons in the KBO league since his debut with the Hyundai Unicorns in 2006. Kang, who is in his prime as a member of the Nexen Heroes (currently Kiwoom), which was re-established after Hyundai's disbandment, is considered one of the best shortstop in KBO history. In particular, he led his team Nexen in the Korean Series in 2014, the year before entering the Major League, with 40 home runs, the first time in shortstop history.
But Kang's return to the KBO is expected to be followed by a big heavy penalty. Kang was sentenced to eight months in prison, suspended for two years, for drunk driving in South Korea in 2016. At that time, Kang was not authorized to take any disciplinary action on the KBO side because he was still in the Major League. But if Kang pushes to return to the domestic stage, heavy punishment will be inevitable. The Kiwoom club only stated its original position that it would review the player internally after confirming his intention.